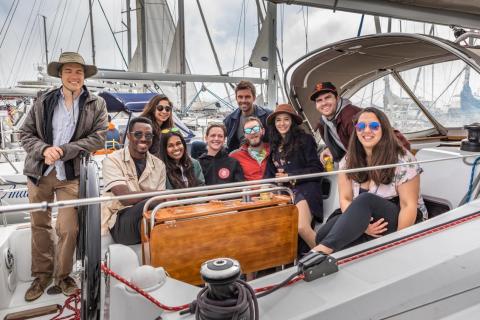 Modern Sailing bareboat charter skippers are required to bring one or more crew members aboard before heading out for a sail. Although we train and vet skippers to ensure they have what it takes to safely operate a sailboat, we don't ask skippers about the experience level of their charter guests. Choice of crew is entirely up to the skipper, and it's also up to the skipper to ensure that everyone aboard has some basic knowledge to contribute to a safe and enjoyable day on the water.
Assess your own skills and experience honestly and use your best judgement when it comes to sailing with inexperienced guests. Unless you're a highly experienced skipper, when all your guests seem to be inexperienced, it's safest to recruit at least one skilled sailor to join you. (If you need some help finding crew, we recommend using the members-only Bareboat Buddy List or Facebook Crew List.)
Keep in mind that everyone (including the skipper), will have a lot more fun when the tasks involved with operating a sailboat are shared with at least one competent crew member. Also, a skilled crew member aboard can free up your attention so that you can focus on sharing some basic skills with the noobies who are excited to learn and participate.
Regardless of your crew's experience level, you'll increase your odds of a safe and enjoyable sail and enable your crew members to cope with unforeseen challenges by providing a thorough pre-departure safety briefing. The crew briefing is especially necessary whenever you take on guests who lack sailing experience and/or when you are chartering a boat that is unfamiliar to your crew. Even if you're going to sail on a familiar boat with familiar crew, a quick briefing is still a good way to validate their knowledge. It can be easy for anyone to forget some of the basics if they haven't been sailing regularly.
Before the Day of Your Sail
Take the time to communicate with your crew members by email or phone to assess their sailing experience. This knowledge will help guide how much detail you need to go into during the pre-departure briefing. Also, try to find out how much each person will want to participate in the sailing activities, or whether they want to just sit back and enjoy the ride as a guest. Ensure that inexperienced guests understand the importance of appropriate footwear (non-skid, non-marking soles) and know how to dress for comfortable sailing on the Bay. 
If any of your guests or crew members are concerned about seasickness, send them a link to our article 10 Tips to Prevent and Remedy Seasickness. (Some measures to prevent seasickness must be taken in advance of the sail.)

Also, before the day of your sail, everyone will want to be aware of the following MSC charter policies:
The Day of Your Sail
Appoint your most competent crew member as first mate and ensure this person understands how to start/stop the engine, use the VHF radio, douse or furl sails, and steer. If your first mate is not very experienced, take the time to provide some one-on-one instruction before you head out. 

Before you leave the dock, follow the crew briefing checklist below to help you inform your crew of the most essential details. These items are critical as they are related to safety and will help prevent injuries or damage to the vessel. With this checklist, we'll provide a few additional fine points about some items. Below this list, you'll find a more concise version in PDF format that you can print out, laminate or insert in a sheet protector, and keep in your gear bag.
Pre-sail Safety Briefing Checklist
Below Deck
On Deck
Crew Health
Want to learn more about crew leadership? These courses will help develop your skipper skills:
---
The Bareboat Buddy List is an email distribution list administered by Modern Sailing. To join the Buddy List, please send an email to office@modernsailing.com.
---
Did you find this article helpful or informative? There's more where it came from! You'll become a better sailor when you read the educational articles in the Member Resources section of our website. Check it out!
---
Article by Mary Elkins on September 23, 2021
Photo credit: Lyon Omohundro