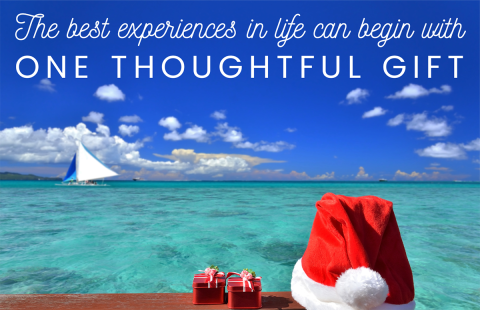 November 30 - December 23, 2023
Is there a sailor or someone with a sailing dream on your holiday shopping list? Modern Sailing makes shopping for a gift for your favorite sailor, sailor-to-be, or you, easy-breezy!
Purchase online, then contact our friendly office team to credit your purchase to your intended recipient. Your recipient can then pick the preferred dates from our Schedule and enroll whenever ready.
If you're purchasing for yourself, as soon as you complete checkout, you can browse the Schedule at your leisure to pick your course dates and enroll.
The special pricing listed below will end December 23, 2023. As long as you've made your purchase from this webpage by December 23, you can hold off on enrolling for as long as you like - or enroll right away, if you like!
Please feel free to contact our office if you'd prefer to interact with one of our friendly customer service representatives rather than purchase online. We're happy to help!
---
2 Introductory Sailing Lessons for $275 ($75 Savings)
An Introductory Sailing Lesson is a one-day sailing excursion facilitated by our experienced USCG licensed instructors. Enjoy the opportunity to hoist and trim the sails as well as steer the yacht - or simply sit back and savor the ride. If your goal is to learn and participate, you will finish the day with a basic understanding of sailing principles. 
Purchase 2 Introductory Sails Online - $275
---
30% Discount on ASA 101, Basic Keelboat Sailing Course 
With this Holiday Special, non-members can purchase ASA 101 with a 30% discount for oneself or another!
ASA 101 on a 30' - 32' Cruising Boat, $750.36 + tax* - Purchase Online
Regular Price $1075 - Save $326.62!
ASA 101 on a 24' Sportboat, $1002 + tax* - Purchase Online
Regular Price $1435 - Save $433!
*Estimated sales tax of $2.14 applies to the ASA logbook and ASA textbook Sailing Made Easy, and may vary based on location.
---
50% Off Membership Initiation - Save $250
Whether you're purchasing a Membership Initiation for yourself or someone else, you can save 50% through December 23. The regular price of a Membership Initation is $500.
This offer is extended to March 1 for your gift recipient! When recipients of a Holiday Special or Gift Card decide to become Modern Sailing members before March 1, 2024, they will receive a 50% discount on their Membership Initiation! This means their 1-Time Membership Initiation Fee will be only $250.
If you are a gift recipient joining the club after December 23, be sure to inform an office team member in order to receive your Gift Recipient Discount on membership initiation.
Monthly membership dues are $65 for individuals and $80 for partners and begin on the first of the month following initiation.
When you purchase a Membership Initiation online, you gain instant access to all the benefits of membership, including discounted member pricing on ASA Courses, Sailing Clinics, and Pacific Coast Expeditions. You can also begin signing up for our social Club Sails immediately after your initiation. You don't need to have experience or certifications to join a Club Sail, which means you can start sailing with fellow club members and guests right away!
Purchase Membership Initiation Online 
---
Gift Cards
Learn how to purchase a Gift Card online and gift your sailor any amount you wish!
---
Do you have questions about any Holiday Special or need some help making your purchase? Please contact our friendly office team. We're happy to help!
Holiday Specials are valid November 30 through December 23, 2023 only. Holiday Specials cannot be combined with other discounts, special offers, or packages.