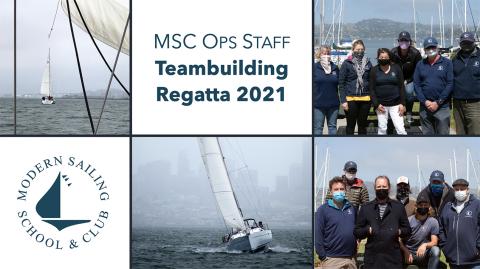 Every spring at Modern Sailing School & Club, we close our doors for half a day to gather for our Operations Staff Annual Kick-Off Meeting, which is always followed by a fun teambuilding event. After April 21st's 2021 Kick-Off Meeting, the team at Modern Sailing were thrilled to sail together and enjoy some fun and friendly competition.
The Customer Service, Sales & Marketing (Office) team squared off against the Fleet Services team for their second Office vs. Fleet match race. The Office team had previously edged out Fleet for the win. Who would take first place this time?
By the flip of a coin, it was determined that Office would command Grey Goose and Fleet would sail Auriah. Both yachts are Beneteau Oceanis 37s. 
Team Auriah consisted of Fleet Manager Dave Holmes and Fleet Service Specialists and Technicians Tim E., Ian, Nathan R., Nathan B., and Joe, with Captain Leigh Hunt (CEO) serving for the second time as Fleet's tactician.
Along with Office team members Inna, Angel, and Kim, Team Grey Goose included Captain Kira Maixner as the race tactition. Captain Kira works in the Office and also as an instructor and race coach. Our Head Instructor Captain Stan Lander served as trimmer. Captain Bill Moreland (COO/GM) steered and coached other team members on the helm during the race.
The race began at an invisible start line between the Harding Rock and Little Harding buoys. Conditions on the Bay were cool and windy, right at the threshold before a first reef in the mainsail would be necessary. Having started the race at opposite ends of the invisible start line, the two boats converged about halfway to the Blackhaller buoy, their first upwind mark. As they splashed along on a close haul towards the mark, the Office team managed to point Grey Goose just a bit higher than Auriah, forcing Fleet into a give-way position at the turn. After Grey Goose passed Auriah on that maneuver, the Office team remained ahead by just a couple hundred yards for the rest of the race.

The screenshot on the left reveals Auriah's track (yellow) along the race course. The image on the right represents the course taken by Grey Goose.
 
Team
Grey Goose
represented over a hundred years of combined experience, perhaps granting Office a competitive advantage over Fleet. When asked what the Fleet team would do differently if they were to race Office again in the same conditions, Leigh quipped, "Have Stan and Bill on our boat."
Team
Grey Goose
's view of
Auriah
in hot pursuit down the final leg towards the finish line. 
Team
Auriah
's view of
Grey Goose
running to the second mark.
Captain Bill's big smile reveals his appreciation of sailing - and winning. 
Auriah
is visible in the distance.

Team Grey Goose (Office), from left to right: Kim Richards, Inna Shapiro, Angel Serafino, Captain Kira Maixner, Captain Stan Lander, and Captain Bill Moreland. 
Team
Auriah
(Fleet), from left to right: CEO and Captain Leigh Hunt, Ian Stuart, Tim (Timmy) Eatherton, Nathan Bailey, Nathan Rae, Joe Proctor, and Dave Holmes.

Humor is part of the culture here at Modern Sailing, and the victorious Office team felt free to indulge in a little playful taunting after the race.

A good-natured Leigh posted this picture on the Modern Sailing Facebook page with the caption: "We had our annual Ops Staff kickoff yesterday, which included a match race. I came in yesterday am to find this! I was the tactian on the fleet team both times. #thebossisgoingtogetfired!"
Will there be another Office vs. Fleet race in the future? Leigh says, "Absolutely. Best three of five unless Fleet loses again, and then it would go to best 4 out of 7… you get the point!" But for Leigh and the rest of the Modern Sailing team, it's truly not about winning... it's all for the love of sailing - the fun of racing too!
Looking for a job? Love to sail? Employees at Modern Sailing work to help others make their sailing dreams come true, and many of us are making our own sailing dreams come true in the process. Modern Sailing is thriving and we need more staff to help serve our growing fleet and client base. We are currently hiring in all departments! Among the benefits are lots of opportunities to learn sailing, practice, and race. See our Careers page for current job openings.
Interested in sailboat racing on San Francisco Bay? Yes, you can race! Check out our Recreational Race Program page to learn how.
Looking for unique ideas for your team or department's next team building event? Sailboat racing is a fun and invigorating activity that brings teams together. Learn more on our Corporate Regatta Challenge page, email us, or call our friendly office team at (415) 331-8250.