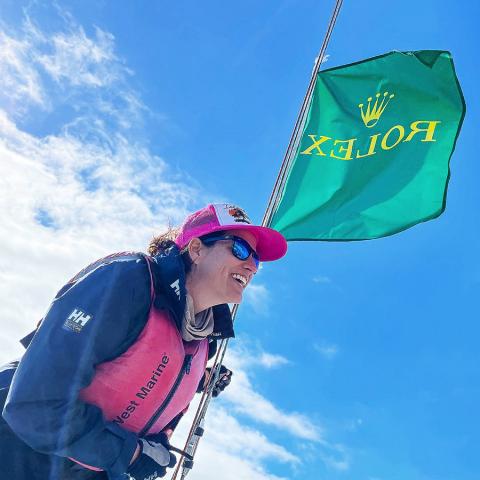 ---

Modern Sailing instructors Laura Parent, Katie Cornetta, and Kira Maixner participated as crew in this year's Rolex Big Boat Series.
Laura, Katie, and Kira also happen to make up 3/5 of our Wind & Women instructor team. We feel so lucky to have such exceptional sailors teaching courses and coaching races for Modern Sailing! 
Read about their experience of the Rolex Big Boat Series in their own words.
 
---
Captain Laura Parent - Tactician, SV Eclipse (Express 37)
"What a great experience it was to sail with this fantastic group of gals. Rolex @bigboatseries definitely puts a team to the test on many levels, and not to mention, for most of us, it was our first time sailing on this boat or even with each other! Love these girls!
Laura (right) with Team Eclipse
.

"I'm proud of accepting the tactician position, being on the leadership team, and putting myself to the test for my first Big Boat Series with a skipper I met only once. And even more proud of how we sailed together as a crew despite the standings!
"I know what it's like on the podium with a 1st Place silver-plated bowl trophy and I know what it's like off the podium. Best DFL ever! The feeling after Day 4 when the crowd erupted into the loudest applause and whooping cheers of the day, was better than 3 Rolex watches. It goes to show that place never matters, it is the LOVE, pure joy, support, and respect for/from your team and fellow competitors  As I said...it is an honor to be here. By the way....Out of 25 podium winning boats... 20 (TWENTY!) had at least one woman aboard! Shout out to them!"
---
Captain Katie Cornetta - Trimmer, SV Destin (Landmark 43) 
"I was jib trimmer and crew boss on Destin, a Landmark 43. I've been sailing on the boat for 2 years and it's been quite a journey from our first BBS in 2019. We put in a lot of practice this year and participated in California Offshore Race Week, placing first in our division. At BBS we had another solid performance and landed 3rd place in ORR A. It was a ton of fun and we really leveled up as a crew under the expert guidance of our Tactician, North Sails University instructor, Andrew Kerr."
Eight members of Team Destin ride the port rail.
---
Captain Kira Maixner - Pit, SV Inconceivable (J/88)
"Not every race will be your fastest, and you won't always win, but this year's Rolex Big Boat Series was important because I learned a lesson about seamanship and safety. I've been participating in the RBBS since 2013 and every year it is different."
---
2021 Rolex Big Boat Races - Results
To see more photos of the Rolex Big Boat Series visit the Rolex BBS home page or Instagram @bigboatseries. Also, check out the work of their talented photographers, Sharon Green and Peter Lyons.