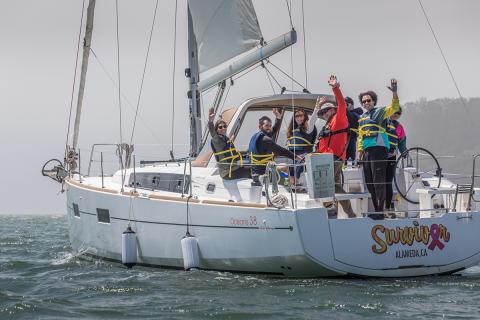 June 19 was Summer Sailstice, an annual international celebration of sailing and the summer solstice. At Modern Sailing, we celebrate sailing every day! On Saturday, June 19, every boat in the fleet was booked and we estimate that over a hundred members, students, and guests got out on the water. 
With Summer Sailstice and the lifting of state COVID-19 restrictions, we also brought back our Après Sails social mixers. Expect to see an Après Sail in our outdoor canvas lounge every Saturday and Sunday 3:30 - 5:00 PM. We serve complimentary wine, beer, beverages, and snacks while you relax and enjoy swapping sailing stories with your friends at Modern Sailing.
Did you go sailing on Summer Sailstice? Members - hop on over to the Modern Sailing Crew List on Facebook, join the group if you haven't already, and be sure to share your photos with the MSC community. You may also email photos to office@modernsailing.com.
The credit for these photos goes to MSC Quartermaster and professional photographer Lyon Omohundro.
MSC member Kevin Martin and his large, enthusiastic crew take a pause from departure preparations for a group photo aboard Wimm.
Bob Gutsgell
, wearing his Modern Sailing logo jacket, was the Club Skipper for Saturday's Club Sail aboard
Liberty
. 
A Club Sail crew member helps with the dock lines while Bob manuevers Liberty out of the slip.
 
Eager Introductory Sail participants make their way down the dock to meet Survivor.
Captain Scott Bonder gives the Introductory Sail participants a pre-sail briefing.
Introductory Sail participants listen attentively as Captain Scott Bonder gives the pre-sail briefing.
Any day is a good day to come celebrate sailing with us! Browse our website, call our friendly office at (415) 331-8250, or send us an email to learn how.