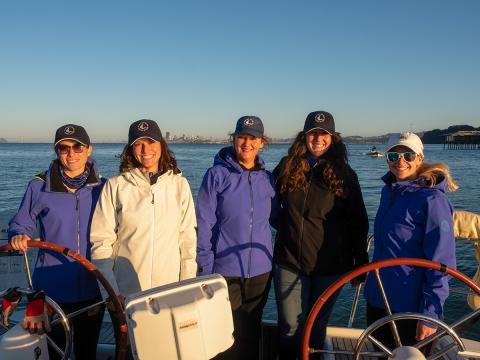 Last spring, three of MSC's Wind & Women instructors met up with Sømand, a women's sailing clothing company recently founded by two Bay Area women sailors.
Instructors Laura Parent, Andrea Geisinger, and Kira Maixner participated in a fun sailing photoshoot to model the innovative Farallon Jacket, Sømand's flagship product.
Our Q & A with Sømand's founders reveals their fascinating story, the thought that went into the design of the Farallon Jacket, and the challenges they faced launching a new company in the midst of the pandemic. 
If the photos and the story of Sømand inspire you to acquire a Farallon Jacket of your own, at the end of this article, you'll find an exclusive code to purchase the Farallon Jacket with a 5% discount!
Pictured from left to right: Modern Sailing Wind & Women instructors Andrea Geisinger, Laura Parent, and Kira Maixner.
Laura Parent models the sophisticated "Salt" (white) version of the Farallon Jacket. Laura says, "I enjoyed working around the boat in the Farallon Jacket. It has great flexibility and movement in all the right places and I love the feminine fit! Very warm and dry."
Andrea Geisinger commands the helm in the stunning "Ultramarine" blue Farallon Jacket.
"This jacket is functional, durable and looks great! I've worn mine on the foredeck of a J88 for racing, around the Bay while teaching and even to and from the Farallones and Half Moon Bay for offshore sailing, and it still looks as if it is new – no pilling or tears. It's water resistant and is a great outer layer. I'm looking forward to many more adventures in this jacket!" - Kira Maixner (aka "Captain Kira") loves her Farallon Jacket in "Nightwatch" (black).
Pictured from left to right, Sømand founder Laura Levy, Wind & Women instructors Laura Parent, Andrea Geisinger, and Kira Maixner, and Sømand founder Noelle Brewin.
Sømand Q & A
Q: Who are the founders of Sømand? Can you tell us a bit about yourselves?
A: We are Noelle Brewin and Laura Levy. We met while racing in the SBYC Friday night series in 2018 and immediately bonded over our shared backgrounds in design. It was from that meeting that we decided to start working on Sømand together.
Laura - I grew up in New York and spent summers sailing Optis and Lasers on the Long Island Sound. I also worked as a youth sailing instructor in college teaching kids on Optis and Lasers, which was a great experience and some of my favorite Summers, but it wasn't until I moved to San Francisco that I was really exposed to racing keelboats. I currently race in the J/88 fleet and J/105 fleet and also enjoy sailing Etchells, and J/22s.
Noelle - I grew up in the Bay Area and spent time on and around keelboats. My family was very involved in sailing in both the local and international community, but I didn't really start learning how to sail until high school when I joined the SBYC junior sailing program. I've continued to sail as an adult, both racing and more recently cruising down the California coast. Now I mostly sail in the South Beach Yacht Club Friday night series and on my family's cruising boat - we're hoping to do the Baja Ha-Ha for the first time this fall!
Q: Where did the idea of creating a jacket come from?
A: When we first set out, our goal was to give women better sailing clothing options than the limited options that currently exist. As we really deep-dived into the problems surrounding women's sailing clothing, that is when we realized a jacket would become our "halo" product; meaning the Farallon Jacket would become our first product we launch and core to our brand.
'The sailing jacket' is also arguably the most important piece of gear while sailing apart from your PFD (in the SF climate) and one of the biggest pain points of sailing. Women's sailing jackets are often ill-fitting, substandard in their performance and made of low-quality materials. We knew we had our work cut out for us, designing the jacket from the absolute ground up!
We didn't want to reproduce what already exists, so we worked through a lot of complex design decisions and gave each feature the time it deserved. We poured over every detail and every seam placement, while also listening to women sailors giving us real-time insight into their wants and needs. While working on the jacket, we also made the mindful decision to become a brand that focuses on one product at a time.
So many brands these days launch with a million products just to have them. It is really hard to go against the "norm" and choose to be different, but rapid-pace design and throwing things into the world just to create more stuff is not what we are about. Being slow to us is important, it gives us time to think, design, and refine. There is a common saying in the product design world by Dieter Rams, ""Weniger, aber besser," translating to "less, but better." We don't need to give women sailors more options, we need to give them better ones.
Q: What is your favorite part about creating a line of gear specifically for women?
A: There are a lot of favorite parts, but one of our most favorites is the incredible group of women sailors we are so fortunate to have met and get to interact with regularly! We really strive to listen to and learn from these women in our community and one of our goals besides designing/creating these better options for women is also empowering them through the experience of what they are wearing while sailing.
Clothing can be hugely empowering, especially in sport. Skimming the very surface of the psychology of clothing, there is a concept of "enclothed cognition" or symbolic meanings encoded into clothing which can directly affect the wearer's actions. Similarly to soccer players or doctors who dawn their jerseys or white coats and become "the soccer player" and "the doctor," we want women to put on their sailing clothing, feel like "the sailor" and be able to perform at their highest level; without having to worry about things like being cold, tugging down their man's straight cut jacket over curvy hips, or tripping over the length of their bibs. Right now the options for women are so limited that women receive this unconscious message that they are unimportant … and we believe it is way beyond time women are valued in the maritime world!
Q: Is there a meaning behind the word Sømand?
A: Yes! It is a Danish word that means sailor. It literally translates to "sea man" and as we understand it mostly represents old salty sailor men in Denmark, but we are reclaiming the word for females too!
Noelle suggested it initially because her Danish family members were the first people to get her involved in sailing. Her older cousin was the first female she saw in her family actually sailing (as opposed to just sitting on a sailboat or occasionally steering), so it is part homage to her.
We also both come from a graphic design background, so have a strong appreciation for Danish design aesthetics. When we saw the ø, the typographic element of the diagonal slash was a win! Also, poetically the ø by itself means "island," and you cannot be a seafarer without having land to cast off from and land on (otherwise you'd just be a fish)!
Q: You launched your company in the middle of a pandemic – what were some of the challenges?
A: Launching in the COVID-19 pandemic has definitely been the biggest unexpected challenge we have endured. We went from seeing each other in person every day to learning how to collaborate and make important design decisions virtually. When the pandemic hit, we were right in the middle of vetting overseas factories. During the first shelter-in-place order Noelle had to "sneak" out to FedEx to mail our best prototype off to a factory. A lot of factories shut down and there were a lot of unexpected materials delays. There were definitely times we thought the Sømand would be over before we even launched.
Ultimately, we got very lucky; we made a few pivotal decisions that have turned out very positively and sailing became more popular. We will never forget how extremely fortunate we were to be in a position to launch and start something new, when for so many it was the closing of a chapter.
Q: What were some of the victories?
A: There have been a lot of wins along the way - all of which we make sure to celebrate with a champagne toast, our internal slogan is to always "celebrate the milestones."
Some of these include: getting our first prototype, deciding upon a factory, getting our first top of production sample, getting all of the production physically delivered, having an incredible amount of support from our community (which brought us to literal tears), and the opportunity to sponsor some of the incredible sailors we have met!
Launching itself has probably been our largest victory. The journey going from a kernel of a thought, to nurturing an idea and then watching it almost collapse, only to blossom - into a real physical product. that we designed. from scratch. now being sold! -  is still, at times, unreal.
Our minds get so overwhelmed with how much further we want to go, and how much we have left to do, that it can be challenging to always appreciate just how far we have come. It is nice taking a step back, to be proud of what we have already accomplished!
Q: What are your favorite features of the jacket? What did you have in mind when you were designing it?
A: Easy! Noelle's favorite feature is the built-in hat clip. Laura's favorite feature is the jacket's modular hood design that zips off or rolls away!
As we designed the Farallon Jacket and as we develop our future products, we are always thinking about the end user and functionality of the garment. By thinking about the person first and building a story around their needs, it leads to the solution. We try to be innovative in our approach and materials, but we also want to make sure we solve the basic fundamental needs of women sailors while making sure every seam and detail serve a purpose.
We like to be thoughtful about our features and make sure they are truly useful. We don't add the extra bells and whistles (like a hat clip) just to do it, we actually prefer to keep things minimal, simple and sophisticated.
Q: Why did you decide to call this jacket the "Farallon"?
A: We were playing around with different naming systems and it sort of clicked. We designed the jacket specifically for the San Francisco sailing climate and knew it would be a great jacket for a trip to the Farallon Islands right off the coast of San Francisco. So we figured naming it after this historic place, arguably "the" landmark of near coastal sailing in the area, would be a really cool idea! We ran the name past a couple of trusted female sailing friends and it was settled.
Q: What, if anything, is similar about starting a business and sailing?
A: Starting a business, like sailing, is a series of movements and decisions. You start by learning the basics, gradually learning how to do more and more maneuvers, until it becomes one fluid and intuitive motion.
It also feels a lot like leaving the dock for the first time … really scary! You really don't want to hit anything or crash the boat so badly you can't go out - but to be out there actually sailing, you have to leave the dock!
And whilst casting off is definitely the hardest part, we haven't quite made it all the way out of the harbor, yet! But we can't wait to be out there, wind in our sails, cruising around in our dinghy ... competing against those America's Cup boats (aka bigger brands), because we have a dream of being able to compete at that elite level one day too! We also hope to never have to come back in and dock.
Q: What is an unexpected challenge or benefit of launching the brand?
A: Launching Sømand has brought about many unexpected challenges and benefits! The pandemic was definitely a huge, unexpected challenge.
I think the biggest benefit has really been seeing our dream come true, as cheesy as that sounds. Part of what gravitated us towards each other initially was this shared ambition of starting a women's sailing clothing brand. We both know we're crazy, we have had many people try to discourage us for various reasons, but when you have an idea and work to make it a reality, it really is one of the most rewarding things in life. Nothing worth having comes easily and we have had to work our tails off to make this happen, with limited resources, and being 100% self-funded!
It is also pretty fun to be able to go sailing and get to wear the jacket we created! 
Q: Last but not least, racing versus cruising? Do either of you prefer one over the other? If so, why?
A: We both love to be on the water sailing in any capacity!
Laura primarily races and enjoys the competitive aspect of sailing and team camaraderie. It's an incredible experience to grow as a team and work together to achieve shared goals. Racing can really push you to the limit both mentally and physically and Laura enjoys this aspect of the sport. Racing has contributed to her personal growth and character tremendously.
Noelle enjoys her time racing, but really loves cruising. She enjoys getting to know her boat intimately during the preparation process and embarking on a journey with personal goals to fulfill. Cruising offers this whole other side of sailing, that can be completely tranquil or the most challenging experience of your life. There are ups and downs, less fine-tuned and more go-with-the-flow, but the knowledge gained is incredible. Having a background in dinghy sailing and keelboat racing, cruising has felt like a rounding out of her abilities and experiences.
Do you love the Farallon Jacket as much as our Wind & Women instructors did? 
Sømand has extended a special offer to Modern Sailing's audience. Purchase the Farallon Jacket on the Sømand.com website and you'll receive a 5% discount on the jacket price by applying discount code Modern5 at checkout!