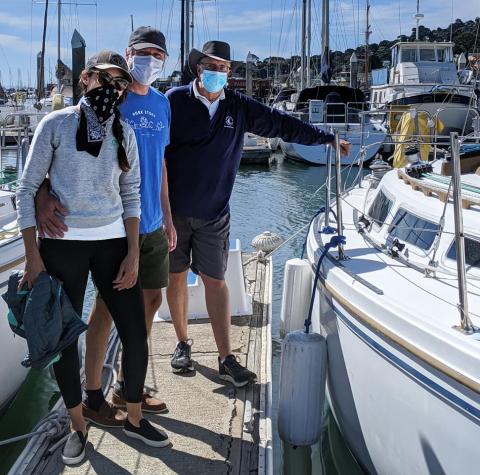 Since MSC began our phased reopening in early May, members and students have shown an eagerness to get back on the water that matches our passion for helping them get there. Often, the demand has even exceeded our currently limited capacity - it's been busy! We shouldn't be surprised. Sailing is a healthy, relaxing, and fun activity, and an alluring, soothing on-the-water oasis (mostly) set apart from the concerns of these vividly strange times.
What does it look like to sail and learn with MSC in the midst of COVID-19? These photos and testimonials will give you a glimpse.
Sailors arriving at MSC are greeted at reception tables by a friendly staff member. Signs on the tables remind sailors to wear their masks and maintain a 6-foot distance between individuals or groups (those not sharing a household). For now, the lounge and office are off-limits to clients and instructors. Staggered charter and class start times help to reduce the number of sailors around the office or down on the docks at any given time.
---
MSC member Michael Smith and his family prepare to take Kokomo out for fun day of sailing on the Bay.
Charter crews who share a household are welcome to remove their masks after departing the docks.
---
"Sunday, we took Double Lotus for a sail. Perfect weather, just enough wind for a first sail since... what feels forever. Our 6-year old sailor thought he saw a shark, or maybe it was just a sea lion. He was so happy to finally get out of the house. He crashed to bed immediately once we got home - too much fresh air? It felt so good to be back on the water. Highly recommended." - François Deliège
---
"We had a great day on the water with perfect wind, fresh air, wildlife and relaxing family time. It was an ideal escape and recharge during these tumultuous times. Amazingly, we didn't take any pictures... an oversight for sure. The new MSC procedures were smooth and easy. We agreed the paperless 'paperwork' was actually easier and hopefully a permanent change." - David Redlin
We love the electronic charter paperwork too! Although we may eventually upgrade the platform, we're currently planning to stick with it.
---
Waking up anchored out is as close to paradise as it gets for SF Bay sailors.
"When we got there for our charter, Leigh was super helpful, kept his distance professionally, and explained the new [electronic charter paperwork] process. I prefer this part to the old way with clipboard so that's actually a huge improvement. We sailed across the bay with good winds, docked at Jack London, masked up and got takeout at Farmhouse. We anchored in Paradise Cove for the night and headed back in the early morning. Drop-off was just as easy as checkout. All in all, the experience was needed, excellent, super smooth." - Alexei Angelides
All boats are thoroughly sanitized the day after every charter or course, and club members currently enjoy special discounts for multi-day charters. Learn more here. 
---
Masks might feel a little awkward or uncomfortable, but they aren't holding these clients back from gaining ground on their sailing goals.
Congratulations to members Graham Bell and Miranda Rasmussen, who received their ASA 101 and 103 certifications with Captain Bill Moreland aboard Tule Wind. They are now qualified to charter boats in our Silver Fleet!
To reduce the students' and instructor's exposure to others, each class is currently limited to two students and is held aboard a single boat for the duration of a multi-day course. Classes can accommodate up to 4 students if they share the same household. Students and instructors are also required to wear masks even while out sailing.
---
Our CEO Leigh Hunt captured this photo of instructor Stephen Spoja and students Carli and Mark McKinney sailing Double Lotus during their ASA 101/103 combination course. 
"Auditing a 101/103 course this week. (After this, the bosses might let me teach!) Absolutely perfect weather to be out on the water, and a very nice change of pace from my workdays over the last couple of months!" - Captain Leigh Hunt, CEO & soon-to-be ASA Instructor
---
Do you have a Modern Sailing experience to share? Post your photos on Instagram with hashtag #modernsailingschool. If you're a Modern Sailing member, join our Crew List on Facebook!
Thank you to our clients for sharing your photos and stories! Also, a big thank you to all our clients for your cheerful cooperation with our changed procedures, and for your patience and understanding while we gradually return our charter and school services to full capacity.
County guidelines permitting, we look forward to further expansion of our charter and class capacities in July and August. Complimentary Thank You Sails for COVID-19 Essential Personnel will also launch soon! Subscribe to our newsletter to stay informed.
Ready to set sail for a refreshing escape on our beautiful San Francisco Bay? Call our friendly office at (415) 331-8250 or send us an email! 
Article by Mary Elkins on June 11, 2020