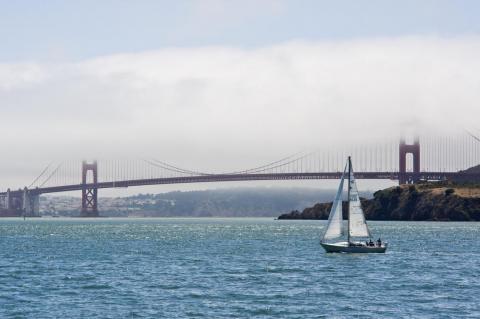 Ready to get your sailing goals back on track? We're ready for you!
Phase I of our Return To Service Plan, Limited Bareboat Chartering, and measures to facilitate physical distancing have been a success! Thank you to our chartering members for your patience and cooperation - you've made it all possible.
With a plan in keeping with COVID-19 safety guidelines issued by the county, MSC is poised to progress on to Phase II - Reduced Capacity Courses as of June 1.
Reduced Capacity Courses
The courses/clinics offered at the beginning of Phase II are ASA 101, 103, 101/103 Combo, 114 and 118. Class sizes and durations have been reduced in order to limit social exposure.
 
ASA 101
ASA 103
ASA 101/103
ASA 114
ASA 118
Reduced Capacity Duration
3 days
3 days
4 days
2 days
1 day
Reduced Capacity Max # Students
2
2
2
3
2
Reduced Capacity Format
1) Sat, Sun, Sat
2) Fri, Sat, Sun
1) Sat, Sun, Sat
2) Fri, Sat, Sun

Mon - Thu

Sat & Sun
Sat or Sun
Regular Course Duration*
4
4
5
2
1
Regular Max # of Students*
4
4
4
5
4

*Exceptions: Class capacity and duration can be increased to the regular maximums if students are all members of a single household.
Class capacities will be increased by one student as we move into Phase III.
Class Start Times: Class start times will be staggered by intervals of 30 minutes. There will be a maximum of 3 courses running on any given day. 
| | |
| --- | --- |
| Start Time | Course |
| 9:00 AM | ASA 118 & ASA 114 |
| 9:30 AM | ASA 101 |
| 10:00 AM | ASA 103 |

Overnight Courses
ASA 104, 106, and 105/106 will become available as we progress into Phase III.
Course Availability
You may notice that some courses in June are already full and waitlisted. Many students whose courses were cancelled during the COVID-19 closure were offered early booking for these courses. ASA courses are open for enrollment for the rest of 2020, but please be advised that the schedule may subject to change depending on changing guidance from local authorities relating to COVID-19.
Custom Courses
Schedule a private ASA course on dates that will work for you. During Phase II, Custom Courses are limited to 2 students from separate households or 4 students who share a single household. Learn More about Custom Courses. Overnight Custom Course requests will be considered on a case-by-case basis. Weekdays are preferred for Customs due to limited availability on the weekends. Call our office at (415) 331-8250 or email us for a quote and availability.
Phase II Boat Use
Daily fleet capacity is increased from 9 boats per day to 12.
Only Full Day and Multi-Day booking types are available to charterers.
Charter start times remain staggered by 15-minute increments.
A single boat will be used for the duration of a course, unless a boat change is mechanically neccessary.
Boats will be thoroughly sanitized the day after charter or class use.
Skippered Charters, Private Lessons, and Skills Checkouts
Skippered Charters, private lessons, are Skills Checkouts are available in June to members of a shared household only. All guests aboard and the captain are required to wear a mask or suitable cloth face covering.
The availability of Skills Checkouts means that incoming new members who are experienced sailors can now get qualified to bareboat charter.
COVID-19 Safety
All instructors and students are required to wear masks at all times during the course. Students must supply their own masks.
Instructors and students are not permitted to enter the lounge or the office area.
All course lectures and tests will be given on the boats.
Respect physical distancing on the docks and near the office.
If experiencing any symptoms of cold, flu, or fever, please stay home and contact your doctor. You may reschedule your course at no additional cost.
Ready to take a step towards your ultimate sailing goal and get ASA certified? Check our schedule and book online!
Coming with Phase III
Reduced Capacity Overnight ASA Courses
Reduced Capacity Club Sails & Races
Expanded Charter Capacity
Increased Class Sizes (from 2 to 3 and 3 to 4)