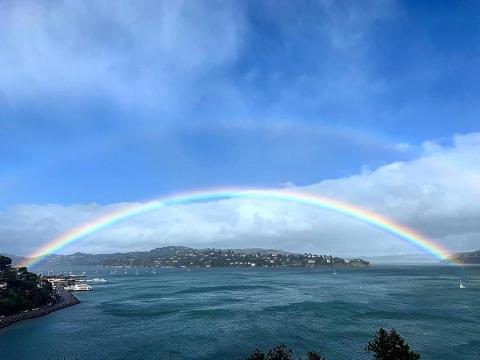 Modern Sailing begins phased re-opening with bareboat chartering modifications to respect safe physical distancing requirements.
At Modern Sailing, we are making it possible for you to safely cool your cabin fever and soothe your restless sailing spirit with some time on the water. The easing of stay-at-home restrictions effective May 4 permits outdoor activities with those who reside at home with you. We are inviting members and their shelter mates to enjoy all the healthy benefits of sailing at discounted rates. 
2 Days = 10% discount off the total rate
3-6 Days = 20% discount
7 Days or more = 30% discount
Explore the Bay, sleep overnight at anchor, or sail as you please for the duration of your charter reservation. BBQs can be provided with advance request ($25). A limited number of Full Day reservations are available May 6 through 31.
While we are eager to get you sailing again, your health is our first priority.
COVID-19 will change the way our community interacts and the way we do business. To responsibly enable bareboat chartering for our members, we've innovated thorough sanitation and physical distancing protocols for our fleet and office. We are ready to safely get you back on the water.
SANITATION and SAFETY
Our COVID-19 Office Safety Protocol promotes physical distancing, hygiene, and sanitization within the office and lounge area. This document also describes our safety procedures when interacting with charterers and guests.
Through May, limited bareboat chartering will reduce the number of sailors near the office or on the docks at any given time to promote physical distancing.

Full Day charter reservations only are available on a first-come-first-served basis. Expanded charter types, classes, Club Sails, and Coastal Expeditions will be phased in gradually over the weeks and months as conditions allow.
Initially, we will restrict the maximum number of charter starts to 6 per day. Availability will be expanded gradually as conditions allow.
UPDATE: Effective May 22, the maximum charter starts is increased to 9 per day.
Charter start times will be staggered by 15-minute increments.

The day after a charter, the boat will be thoroughly cleaned and sanitized according to our Fleet Sanitation Protocol.
Disinfectant cleaning products are available for your use while on board.
You are encouraged to bring your own silverware, plates, cups, etc. If using any of the boat's dishes or cookware, please wash all used items with soap and water and leave them on the galley counter or in the sink. A fleet technician will sanitize all galley items before putting them away.
Multi-day charterers are responsible for their refueling and holding tank pump-outs, if needed, during the duration of the charter.

The Clipper Yacht Harbor in Sausalito is open 8:00 AM to 1:00 PM daily. Customers must wear a mask and only 2 boats will be allowed at the dock at a time.
RESERVATIONS, OFFICE CHECK-IN, and CHARTER FORMS
All reservations and charter paperwork will be accomplished electronically via telephone, email, Google Forms, and VHF radio. (You do not need a Gmail account to complete our Google Forms.)
Request your reservation date(s) by phone call or email. A customer service representative will inform you of the boats available for your requested date(s) and place a reservation on your selected boat. Online booking is currently unavailable.

To help limit the number of people arriving at the office at the same time, charter start times will be staggered.
Your customer service representative will inform you of the time you should arrive to check in at the office.

The day of your charter, be sure to bring your mobile phone or other mobile device with access to your email and the Internet.

We recommend "leashing" your mobile device in a waterproof pouch with a lanyard or other device that can keep your phone tethered to you even while you use it.

Upon arrival, please don your mask and check in with the MSC office at the lounge entrance.

A customer service representative will process your payment using the credit card on file or other provided credit card.
Your electronic charter paperwork will be emailed to you, providing links to each form. Your boat's slip number and lock combination are located at the top of the Boat Check-Out Form.

Upon boarding the boat, turn on the VHF radio to channel 68.
Complete and submit the electronic Boat Check-Out Form on your mobile device.
When you are ready to leave the dock, hail the Modern Sailing office on VHF channel 68 and inform the team member that your check-out form is submitted. When the team member acknowledges, you are free to cast off and enjoy your sail.
After returning to dock and before leaving the boat, complete and submit the electronic Boat Check-In Form.
DOING YOUR PART TO KEEP OUR COMMUNITY SAFE
Sail only with those who have been residing with you during the stay-at-home mandate period.
All members and guests must wear a mask or other facial covering when in the vicinity of the office and on the docks.
All individuals and charter crews are required to maintain a minimum 6-foot distance between themselves and others (those not sharing a residence) at all times. When encountering others on the docks, please step onto a finger pier to allow them to pass.
Please arrive at your scheduled start time to help facilitate physical distancing between chartering members.
If staying aboard overnight, as always, bring your own bedding, towels, and toiletry.
We recommend that you bring your own galleyware (dishes, silverware, cookware). If you do use any of the boat's galleyware, please thoroughly wash all items with soap and water and leave them in the sink or on the galley counter. A fleet technician will sanitize them before the next charter.
Ready to set sail? To make a reservation, please call our office at (415) 331-8250 or send us an email.
Thank you to everyone who is doing their part to help limit the spread of COVID-19 and to serve our community. We also encourage everyone to continue practicing physical distancing and careful hygiene, and to stay safe by staying informed. Learn more about how to stay safe at coronavirus.gov.