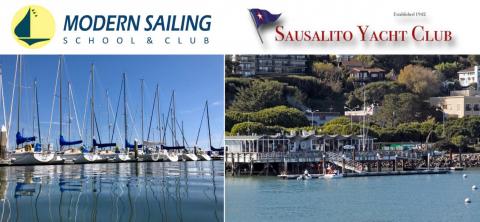 Whether you've never sailed before or want to expand your sailing experience, it takes a community of sailors to help you get out there. Sausalito Yacht Club and Modern Sailing School & Club have teamed up to introduce you to the Sausalito and Bay Area sailing community and a world of opportunities for learning and enjoyment on the water.
Benefits for SYC Members at Modern Sailing School & Club
Are you a social member of Sausalito Yacht Club and ready to learn how to sail? Current SYC members receive discounted pricing on Modern Sailing's ASA 101, Basic Keelboat Sailing, ASA 103, Basic Coastal Cruising, and our ASA 101/103, Basic Keelboat/Basic Coastal Cruising Combo courses.* 
*Prices are effective as of January 1, 2019 and are subject to change.
If you already love to sail but don't want the hassle or expense of owning your own boat, SYC members can join MSC's charter club and enjoy a 50% discount on membership initiation. Modern Sailing also offers ongoing opportunities for club members to sail, socialize, and learn with others of all experience levels. To learn more about the benefits of MSC club membership, visit our Membership page.
Ready to sign up for courses or join the club? Call Modern Sailing School & Club at (415) 331-8250 and let them know that you're an SYC member.
Benefits for MSC Members at Sausalito Yacht Club
Initiation benefits are also available to Modern Sailing members when they decide to join Sausalito Yacht Club, which means members of both clubs benefit from SYC and MSC's friendly relationship. The table below provides details on SYC membership initiation pricing.**
| AGE | SYC SOCIAL MEMBER | SYC BOAT OWNER MEMBER | MSC MEMBER |
| --- | --- | --- | --- |
| 24 - 29 | $1000 | $1000 | $1000 |
| 30 - 39 | $1500 | $1500 | $2500 |
| 40 - 49 | $2500 | $2500 | $2000 |
| 50+ | $3500 | $2500 | $2500 |
**SYC membership initiation rates are effective as of December 1, 2019 and are subject to change.
To learn more about the benefits of Sausalito Yacht Club membership and contact the membership chairperson, visit the Membership page on SYC's website.