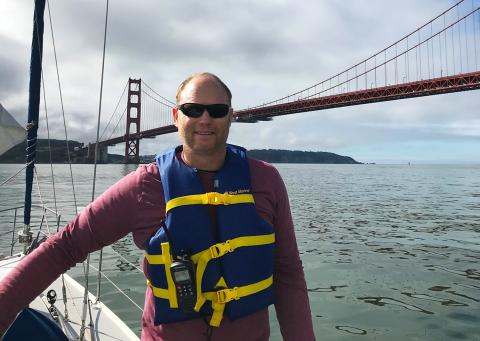 Have you ever thought about learning to sail on San Francisco Bay?
In the video below, find out one of the best ways to learn in the words of a Modern Sailing School & Club student and member!
Outdoor enthusiast, YouTuber, and MSC club member Scott Dunn recently posted a video discussing what he's gained by taking classes and chartering sailboats on San Francisco Bay with Modern Sailing School & Club.
Scott's journey with MSC began in the 1990s (known back then as Modern Sailing Academy) with completing ASA 101, Basic Keelboat Sailing and ASA 103, Basic Coastal Cruising under the watchful eye of John Connolly, MSC's former owner. Soon after earning his certifications, Scott became a member and frequent charterer. In 1999, he proposed to his future wife on an MSC boat in Ayala Cove, but after the birth of their daughter in 2001, Scott hung up his life jacket for many years.
In 2017, Scott returned to his sailing roots and rejoined MSC as a Silver Fleet member. A few months later, he upgraded his charter qualification to Gold Fleet by taking the Gold Fleet Upgrade Clinic, and fortified his docking confidence by completing the ASA 118, Docking Endorsement clinic in 2018. In early 2020, Scott upgraded his qualification once again to Platinum by taking ASA 104, Bareboat Cruising. Throughout the years of his membership, Scott has remained a frequent charterer, sharing his love of sailing with friends and family often - and now also on YouTube!
In this video, in addition to sharing his positive experience with MSC, Scott also features some fun Bay sailing footage and several clips of one his most memorable on-the-water experiences - sailing under a thrilling Blue Angels aerobatics show. Enjoy!
In the meantime, Scott has plans in the works to produce videos featuring sailing tips that he's learned at MSC. We look forward to seeing and sharing them!