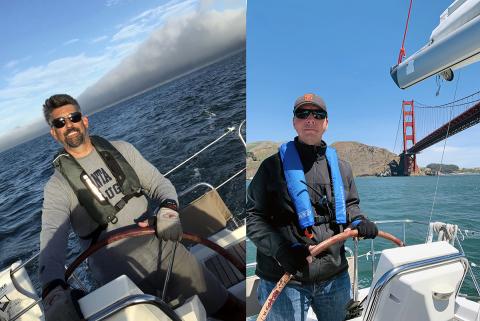 Modern Sailing recently graduated club members from our Club Skipper Clinic. Please welcome two of our newest Club Skippers - Eric Partika and Paul Aichholzer!
Eric Partika - in his words
"My name is Eric, and I am a lover of water and boats. I moved to San Francisco in 2008 and immediately got into sailing on the Bay. I have owned two cruising sailboats, in Emeryville and Sausalito, but in 2017, decided to leave boat ownership and join Modern Sailing. Since then I have been a avid fan of our club and have taken ASA 101, 103,  104, 105, 106, 114, and 118, the Docking Endorsement class. Additionally, I done destination sails to Catalina and overseas in the Italian Riviera. I enjoy sharing my love of sailing with friends, family and club members, which has lead me to becoming a club skipper. I hope to foster other's interest for sailing and offer up any knowledge I have gained over the years. Looking forward to sailing together!"
---

Paul Aichholzer - from Top Student to Club Skipper
In 2020, Paul was an exceptionally active student at MSC and received our 2020 Top Student Award. Since then, he's completed the Recreational Race Clinic and Club Skipper Clinic. We're delighted to have his enthusiasm aboard the Club Skipper program!
---
Club Members: stay active and connected on the water to a friendly sailing community by joining Club Sails! Sign up for Club Sails online, call our friendly office at (415) 331-8250, or email us for help.