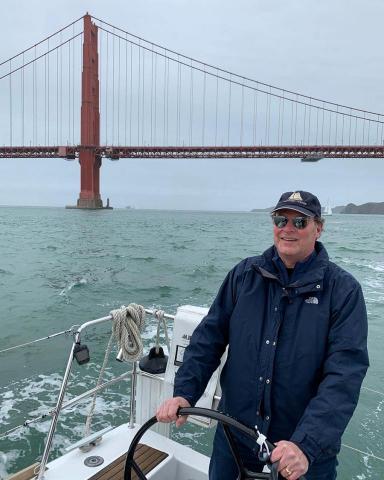 Don Mulkey grew up in the South on powerboats, water skiing, fishing, and just enjoying being on, in, or under water. He has also been SCUBA diving for more than 30 years. He first became interested in sailing many years ago while working in New York City and commuting from his home in Connecticut, which was located 5 minutes from the nearest marina. "I need to take sailing lessons," he would often say to his wife. But he never did.
When Don moved to Mill Valley 16 years ago, he said to his wife again, "I need to take sailing lessons," yet still didn't follow through. Sailing remained in the back of his mind until late 2020, when Don's wife and daughter asked him what he wanted for Christmas. His answer was, "I want to learn to sail."
Don got what he wanted for Christmas. With his family's support and encouragement, he has finally learned to sail. In April, Don successfully completed ASA 101, Basic Keelboat Sailing and ASA 103, Basic Coastal Cruising at Modern Sailing. Since then, he has chartered four times, co-skippered with other members 4 times, and completed the ASA 118, Docking Endorsement clinic. Don is now well-prepared to take ASA 104, Bareboat Cruising, which he has scheduled for the end of September.

"What I love most about sailing is just being on the water in the Bay," Don says. "The sights, the sounds, the sea life, and on and on. I love that every day is different – sometimes smooth sailing, other times gusts, wicked waves, and strong tides. It can be both relaxing and taxing all at once."

Since none of Don's friends were sailors, he has frequently used MSC's Bareboat Buddy List email distribution list to find others to sail with. "I've made friends with several other sailors, and we've planned sails beyond the Buddy List," he tells us. "Everyone I've sailed with have really interesting backstories of sailing and life in general. I've enjoyed meeting and sailing with passionate people of all skill levels."

"The instructors I've had have been fantastic," Don adds. "Very supportive and knowledgeable, while at the same time keeping the students on their toes. I have to say I have had nothing but good experiences with Modern Sailing, and with the others I've had the pleasure of sailing with."
Don's favorite sailing experience so far came only a few weeks ago, when the wind was steady with no gusts. "We were able to set our sails, and literally not even have to touch the wheel until we needed to tack or come about. Heaven."

After Don completes ASA 104, he plans to charter the larger boats in Modern's fleet and is hoping to convince his wife to join him for a sail. Beyond that, he looks forward to bareboat charters in the BVI and perhaps the Mediterranean.
We at MSC congratulate Don on becoming an active and skilled sailor after many years of thinking and talking about it. We are honored to have played a role in his learning and enjoyment of sailing and look forward to following his future adventures on the Bay and beyond!
---
Have you been thinking about learning to sail? At Modern Sailing, we offer a wide variety of ways to get on the water. To learn how you can experience the joys of sailing on San Francisco Bay, explore our website, call our friendly office at (415) 331-8250, or send us an email. We're happy to help!
---
Get inspired! In the Member Resources section of our website, you will find many inspiring stories about MSC students and members like Don who are making their sailing dreams come true. Some have bought their own boats, chartered internationally, crossed oceans, and even sailed around the world!