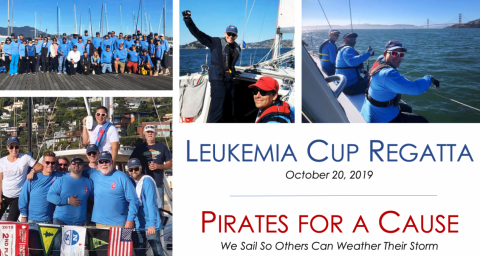 8 Yachts. 54 Pirates. $17,780 Raised.
Sailors participating in the Leukemia Cup Regatta on Sunday, October 20 were rewarded with blissful sailing conditions on San Francisco Bay - warm sunshine, flat water, and easy 12-knot breezes.
This year our band of Pirates achieved a 2nd Place Top Fundraising Team award, while Team Phoenix, skippered by our CEO Leigh Hunt, sailed to a 3rd place finish in her class. The turnout of our enthusiastic Pirates was hard to not notice, prompting our friends at Latitude 38 to give our blue-shirted mob a nod in their article, Leukemia Cup — As Good As It Gets.
Thank you to all who participated and donated for helping to make a difference in the lives of those affected by blood cancers and for making the Regatta a fun and memorable event for all.
Our gratitude goes out especially to Kevin Holden and Ernest Khirallah, our inspirational leaders behind Team Pirates for a Cause, and individual fundraisers Maureen, Melissa, Leigh, Deniz, Daniele, Jeff, and Gina who went above and beyond in their contributions to the Modern Sailing team effort.
Missed the boat? It's not too late to donate.