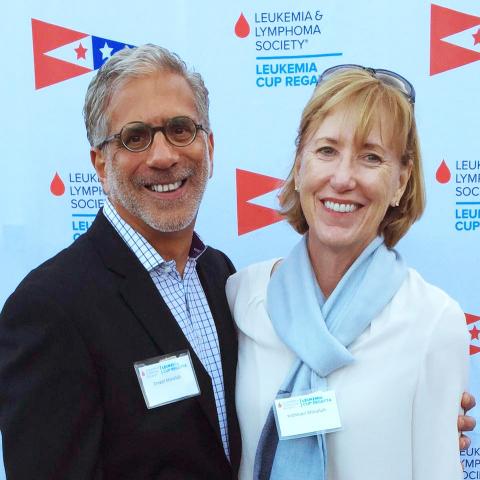 "When you get better, we're gonna run a marathon together," my wife Kathleen told her 30-year old sister Jean in 2003, as Jean began treatment for her newly diagnosed leukemia.
The entire family was devastated by the diagnosis. With a two-year old daughter, husband, 5 sisters, and a large extended family to live for, Jean was determined to beat the disease. Kathy joined her sister in the fight by becoming a stem cell donor for Jean.
Jean did get better - and the sisters ran that marathon together in 2005. They raised $10,000 for the Leukemia and Lymphoma Society (LLS), running with the LLS Team in Training organization. Kathy and I have been running and sailing for Team in Training and LLS ever since.

My dad was not so lucky. He died of leukemia at age 82. Thankfully, he lived a full and joyful life.

Even bigger scares came for 5-year old Sofia and 8-year old Samantha. I sailed in their honor in the 2017 and 2018 Leukemia Cups. I was amazed at what those families went through to fight their daughters' leukemia. Once a month for two years, along with the kids, parents and aunts dressed up in tiger, lion, giraffe, and princess outfits to "armor up" and help the children face hours of radiation and chemotherapy. Sofia and Samantha (and countless others) would make it through the day, only to go home and suffer fevers, nausea, and infections.

Again thankfully, Sofia and Samantha are now healed. The LLS has done an incredible job with research, medicine, technology, and patient support. Because of the LLS over the past 30 years, what was once a certain death sentence is now a battle that is more often won than not. The victories significantly outweigh the defeats, but the defeats and the child deaths do continue. That's why I continue to sail in the San Francisco Leukemia Cup Regatta.
For the past 5 years, through Modern Sailing as a major sponsor, many of us have sailed in the Leukemia Cup Regatta. Together we've raised over $50,000. I call that a great start. But the need remains, so I will sail the Cup again this year. For me, this is an incredible opportunity to combine my passion for sailing and racing with the chance to help cure frightened children of life-robbing leukemia. I hope many of you will join in this year as well, and that this can be the best Leukemia Cup Regatta ever for Modern Sailing. The motto "It's In Our Blood" applies to both sides of the Leukemia Cup - our love of sailing and the fight against blood cancer.

So ARMOR UP! You don't have to be a skilled racer, just someone who loves to sail and save lives. You can make a difference. 

Ready to sign up and sail for the cure? It's easy to Enroll Online!

Ernie Khirallah
2017 Modern Sailing Member Ambassador
For more information about Modern Sailing's participation in the Leukemia Cup Regatta, visit our San Francisco Leukemia Cup Regatta page. 
To support Ernie's individual campaign to raise funds for the LLS, visit Ernie's Fundraising Page on the LLS website. All donations to his campaign are also credited to Modern Sailing's tally of total funds raised.