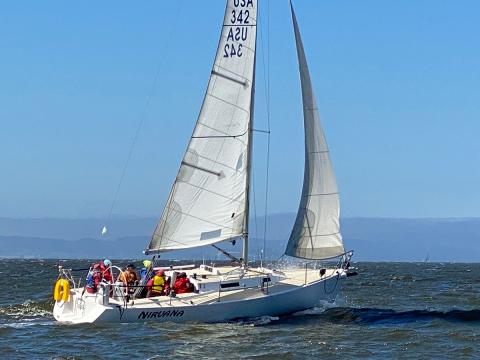 Nirvana is a J/105 in our Berkeley Gold Fleet. The J/105 by J/Boats is one of the most exciting types of boats we've sailed! This popular one-design model combines speed and performance with comfort and simplicity. With an overall length of 34.5 feet and a deep fin keel (draft of 6.5 feet), the J/105 is fast and responsive. Get on a beam reach, trim your sails, and blast off!
The cockpit is large and roomy, although it is not protected by a dodger like many boats of this size.
The mainsheet is attached to a wide traveller conveniently located just forward of the oversized wheel. As such, the helmsperson can either trim the mainsail while steering or just enjoy steering while a dedicated mainsheet trimmer keeps the boat powered up.
The roller-furling jib, slab reefing mainsail, and inboard engine add simplicity to sailing the J/105. Like the J/24, the J/105 offers the usual sail-shaping controls like the cunningham, outhaul, and adjustable backstay.
Down below, you'll find a proper marine head, VHF radio/electronics, and long settees and v-berth with cushions.
Here are links to more information about the J/105: