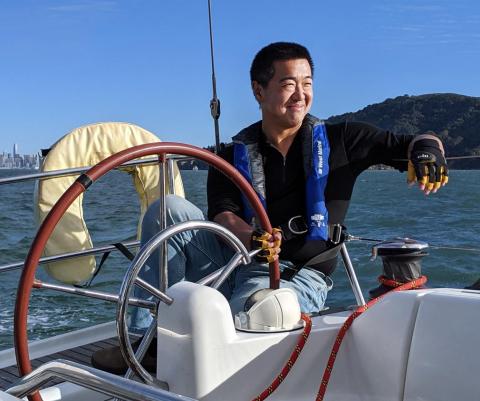 Robert Bao has always enjoyed being out on the water, beginning with kayaks and canoes and progressing to small sailboats. Recently, Robert became qualified to charter boats in Modern Sailing's Platinum Fleet and is now dreaming bigger.
Robert's interest in sailing began after moving to Boston in 2008. Inspired by the sight of sailboats on the Charles River, he found a club that offered informal lessons for very little money. Robert signed up right away and was immediately hooked. The club was a short walk from the lab where he worked, so he was able to go sailing whenever his experimental schedule allowed. Robert got qualified to sail 16-footers and 19-footers in 20-knot winds and he happily sailed there for seven seasons.
Robert's favorite sailing experience took place in the Mediterranean. At a friend's wedding in Rome some years back, he learned that her dentist, also a guest at the ceremony, was part of a sailing club in a little town on the coast that Robert had already planned on exploring. The dentist only windsurfed at the club, but he was able to arrange for Robert and friends to borrow a multi-person Laser sailboat for the day. Sailing the crystal-clear water in consistent light-to-moderate wind on a warm late summer day with the rugged Italian coastline in the background was something really magical.
After relocating to the Bay Area, Robert discovered Modern Sailing School & Club and joined in September of 2020. Soon after, he became qualified to charter boats in our Silver Fleet. Since then, he has joined a Club Sail or chartered at least once per month. Sailing regularly has increased his confidence and prepared him to tackle the bigger boats. In early June, Robert completed an ASA 101 and 103 Challenge and then completed ASA 104, Bareboat Cruising less than two weeks later, which qualified him to charter 38' - 44' yachts in MSC's Platinum Fleet.
"There's so many things I love about sailing," Robert says. "When I sail for sport, I love how it pushes me both mentally and physically. Now moving on to bigger boats at Modern, the physical component is less intense, but I love the beautiful scenery of the Bay and the camaraderie of working as a team to get the sailboat to where we want to go."
Of his experience at MSC, Robert says, "The most important thing I've learned at Modern has been teamwork and leadership. Moving up to larger boats here, I had to make the transition from doing everything myself, to delegating most of the tasks to my crew. Finding a good crew, and learning how to communicate with them effectively in sometimes stressful circumstances, has been extremely rewarding. It's also improved my work life, where the leadership skills I've learned here have made me a much more effective manager."
Up to this point, Robert has been strictly a day sailor, but has recently set his sights on new horizons. His ASA 104 certification now opens up the possibility of international sailing vacations, and he looks forward to experiencing multi-day cruises in warm tropical locations.
We at Modern Sailing are delighted be a part of Robert's progression from small boat sailor to big boat charterer, and we are excited to follow his progress as he ventures onto foreign waters!
---
Find more stories like Robert's by visiting to our Member Resources page. Many of our members and former students have made their biggest sailing dreams come true. They've bought boats of their own, participated in epic races, crossed oceans, and even sailed around the world. Our Sailor Spotlight stories are sure to inspire!
Do you have a sailing success story? Help us inspire your fellow sailors - tell your story here!