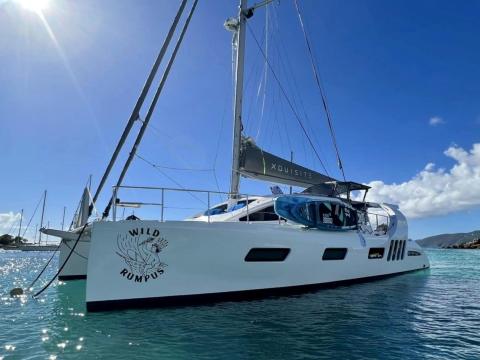 Modern Sailing is pleased to partner with one of our instructors, Captain Scott Bonder, to host an ASA 106, Advanced Coastal Cruising Caribbean Adventure course aboard Scott's 50' catamaran, Wild Rumpus, among the Virgin Islands this April. As of February 23, there are only 2 spots remaining for sailors to join this once-in-a-lifetime luxury learning and cruising experience.
In this article, learn more about this "Xquisite" luxury cataraman and the delights in store for all those who sail aboard her.
Boat Make and Model
Wild Rumpus is one of the first X5 Plus models to be built by Xquisite Yachts in Cape Town, South Africa. She is designed to take you from one beautiful destination to another all while enveloping you in luxury. The powerful sail plan assures that you will experience the thrill of sailing over blue ocean waters island-to-island like the sailors of antiquity, sans the salt-soaked bunks, splinters, and weevils.
ACCOMODATIONS
Wild Rumpus is perfectly suited for four guests to enjoy her luxurious cabins with en suite heads for complete comfort and privacy. By utilizing the spacious saloon table, which converts into a queen-sized bed, she can accomodate up to six passengers total. 
Every cabin features memory foam mattresses, air conditioning, a full electric head, separate shower, opening hatches for ventilation, and outstanding views. Every room also has outlets for charging your portable electronic devices. 
THE SALOON
The saloon, much like a living room and kitchen in an apartment, is the indoor social center of Wild Rumpus. Offering a dining table, generous seating, and a gourmet kitchen, guests will feel at home here. In the evening, the saloon table can be convertible to a queen-sized bed.

THE COCKPIT AND TRAMPOLINES
The cockpit, which is the open area at the stern, is comfortable and inviting. Seating, another dining table, lounges, a day bed, a wet bar, and grill make this space a perfect gathering and relaxation spot. The outdoor fresh water shower features a rain shower head for your post salt-water swim in the beautiful anchorages that you will visit during your ASA 106 Caribbean Adventure.
The cockpit includes a daybed for those who prefer napping or sleeping outdoors. And, of course, 

At the bow is yet more seating and two trampolines (the netted area over the water) that are comfortable, and offer great ventilation. The trampolines bow are wonderful for sunbathing, reading, and napping while anchored or underway.
The two bow seats provide fun and exciting thrones from which to survey the open sea while underway. There is no better spot for dolphin-watching!
BOAT SPECIFICATIONS
Length Overall:  53'
Length at waterline: 50'
Beam (width):  26'
Draft: 4'4"
Displacement: 40,000 lbs
SAILS
Mainsail: 1130 sf
Jib: 420 sf
Genoa: 721 sf
Code 65 Symmetrical Spinaker: 1400 sf

Do you have questions about the ASA 106 Caribbean Adventure course aboard Wild Rumpus this April? Please feel free to contact our friendly office. We're happy to answer any questions you may have or to help you sign up.