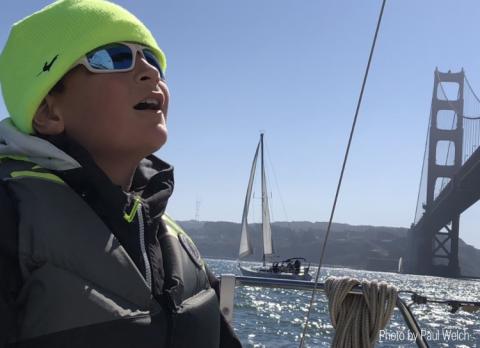 Sailing is a fun, healthy, and socially-distanced outdoor activity that families can enjoy together. With charter crews currently limited to members of a common household or social bubble, this is the perfect time to get your kids hooked on sailing. 
There is no perfect age for introducing kids to sailing. At Modern Sailing, we've seen members introduce children to sailing as young as infants and toddlers! Of course, the younger and more inexperienced the child, the more dedicated their caregiver's attention will need to be to keep them safe. But no matter their age, when you take the time to provide kids with a rich variety of fun, incremental, and inclusive learning experiences, you'll open their way to a lifetime of sailing appreciation. Take it slow, keep it light, and enjoy the moment, even when things don't go perfectly.
It's All About The Fun
With kids, getting and keeping their interest is all about having fun! Sailing is more fun for kids when they feel safe, comfortable, and included. Keep the learning fun by helping to build interest, experience, skills, and confidence one step at a time.
Limit your newest crew member's first sail to helping them learn essential safety behaviors while becoming familiar and comfortable with the boat. Begin with a short sail on a day forecast for pleasant conditions. If you'd like go for a longer sail, plan to take a break on anchor for a snack and meal after a couple of hours. Along the way, focus on some of the most fun aspects of sailing - like unfurling sails, sighting marine wildlife, steering on the helm, and ogling the fascinating array of other vessels to be seen on the Bay.
As your kids' comfort and interest increases, increase the fun by adding learning, variety, and adventure to your family sailing excursions. Begin teaching some basic crew skills. Dock at Ayala Cove and hike on Angel Island, or sail up the Oakland Estuary and dock at Jack London Square for takeout. Try a night sleeping on anchor and explore further reaches of the Bay together. 
Safety and Comfort
California state boating regulations mandate that children aged 12 and younger must wear a US Coast Guard-approved PFD at all times while aboard a moving vessel of any size. Most marine retailers carry child-sized life jackets, and Modern Sailing stocks a variety of child-sized PFDs available for loan.
While at the dock, provide kids with a safety briefing. You can also teach them some easily remembered idioms, such as:
"One hand for you, one hand for the boat." Show them where to find all the handholds above and below deck.
"Toes grip, heels slip." Demonstrate the safest way to use the companionway stairs and step around the boat.
"Thumbs up to the heart." Handling a line with the thumbs pointed toward the heart improves leverage and prevents fingers from suddenly being pulled into a winch or block.
For more information about physical safety on a boat, see our Member Resources article Common Sailing Injuries and How to Prevent Them.
Here's a great article for grown-ups to read about keeping kids safe on boats: 12 Boat Safety Tips that Might Just Save Your Child's Life

Some kids will approach a first sail apprehensively, some will charge aboard like a pirate born some 200-odd years too late, and others will feel somewhere in between. If your kid isn't a born pirate, avoid a mutiny by limiting discomfort as much as possible.
Before leaving the dock, teach kids how to use the head. Younger kids may need a caregiver's assistance to use the head when under way.
Keep the ride easy-going. In windy, choppy conditions, reef early and minimize sailing to weather.
If children fear going overboard, a tether clipped to their PFD and grippy shoes will help them feel more secure.
When it comes to line handling, be aware that the forces generated by high winds on a large boat can overwhelm kids. Provide learning opportunities in calm conditions. For example, find shelter from the wind behind Angel Island or the Tiburon Peninsula when teaching new maneuvers. Teach them how to grind a winch when it is not under load.
Respect the child's limits. Keep an eye on comfort and energy levels. Know when to call it a day or take a rest hove-to or on anchor.
Protection from the Elements
Ensure kids are prepared for comfortable sailing with suncreen, a hat, and layered clothing including a wind and waterproof outer layer. If handling lines, sailing gloves are essential. Bib pants and overalls will complicate visits to the head, and jeans provide little to no protection in a cold breeze. Bring extra clothing, some warm blankets, and/or hand warmers in your gear bag just in case. A pillow for naps is a good idea too.
Energy and Hydration
The right amount and types of foods will help keep your young sailor's mood and energy up, with the added benefit of helping to keep tummies calm.
Offer plenty of light, bite-sized finger foods such as crackers, fruit (peeled orange sections, grapes, strawberries/raspberries, bananas), energy bars, or sandwiches cut in sections small enough to hold with one hand. Avoid heavy, rich, and fatty foods.
Sparkling water, ginger ale, and iced or hot peppermint tea can do double-duty as refreshing hydration and mal-de-mer mitigation.
Teaching and Learning
All kids are different. They will learn at different rates and by different means and will approach new challenges with varying degrees of confidence. Encouraging children to go slightly outside of their comfort zone keeps boredom at bay and helps grow skills, confidence, and character. Once arriving just outside that comfort zone, help the child adapt and wait until they feel comfortable again before introducing another new skill or experience. Don't try to teach everything all at once.
Start with the big-picture basics, keep lessons bite-sized, and let kids pace their learning. When teaching a new skill, verbally explain what you're about to teach, and ask if they would like to learn this. If yes:
Demonstrate the new skill 1 to 3 times.
Let the child try out the new skill. If a mistake is made, reassure the child that mistakes are a part of learning. When they do it correctly, offer praise. Encourage the child to practice this skill several times. Give them some time to relax and enjoy the sense of accomplishment.
When the child feels accomplished at this skill, ask, "Are you ready to learn something new?"
If your youngster turns around and starts asking you lots of questions, this is a good sign that you have a budding sailor aboard!
To Include Practice, Practice Inclusion
Invite children and crew to try out different roles and "jobs" while sailing. Special jobs aboard your boat will keep them engaged and feeling like valued and important members of the crew. You can invent and assign different jobs aboard your boat designed to discourage boredom, encourage practice, and reinforce certain skills. Jobs can be suited or tailored for a certain age, ability, or interest, or can even provide a rest from active sailing. Rotate between jobs incrementally by setting 30-minute, 1-hour, or 2-hour shifts or "watches." Set a timer to let the crew know when the watch is changing. The skipper or another skilled adult sailor aboard will need to transfer knowledge, model the skills required for each job, and monitor to ensure tasks are performed safely and correctly.
Here are some "job" ideas for a variety of ages, skill, and interest levels:
First Mate – Organizes watch assignments for the crew and keeps track of watch schedules.
Mate – Helps maneuver the boat by handling sheets and halyards.
Deck Hand – Retrieves and deploys fenders and dock lines. Keeps lines from going overboard and ship-shape so no one trips on them. 
Helmsperson – Steers the boat and communicates intentions and directions to the crew. 
Lookout – Keeps the helmsperson and/or skipper appraised of the location and movement of other vessels on the Bay. The lookout considers and communicates whether an approaching vessel may be on a possible collision course. The lookout also watches for incoming fog, floating debris, and other hazards to navigation. 
Navigator – Decides which mark to sail to next and the best way to get there. Practice speed and distance exercises using known marks in the Bay. Time how long it takes to travel from mark to mark and calculate the speed of the boat. The navigator can also experiment with apps such as Navionics and Boat Beacon. 
Engineer – Tests the head, operates battery switches, starts and stops the engine, operates switches on the electrical control panel (water pressure pump, cabin lights, navigation lights, windlass, etc.). Monitors power usage, battery status, and tank levels.
Biologist – For the kid more interested in the flora and fauna than in the sailing. Keep a reference book, pen and notebook handy for the biologist to identify and document wildlife sightings. If unable to identify, the kid can make notes describing the animal's features and use Google to identify it later.
Steward – Offers snacks, beverages, clothing layers, or blankets to crew on watch.
DJ – Keeps the crew entertained with music. 
Off Duty – Sailor is on free time.
These are only a few of the possibilities - use your imagination! While you're at it, encourage the kids to use their imagination too.
Sailing Builds Confidence and Character
Well, we all know boats. Things can and do go wrong. A mistake, a boat problem, or emergency can be a valuable learning opportunity for adults and kids alike. The lessons we learn when things don't go our way aboard a boat can be applied to solving problems in the greater context of life. As the old expressions go, "When the winds change, adjust the sails," and "A calm sea never made a skilled sailor." 
Kids and Modern Sailing School
Modern Sailing is an adult sailing school and does not offer classes strictly for children. However, children can benefit from private sailing lessons with a parent or guardian and one of our oustanding instructors. To learn more about private instruction with kids, call our office at (415) 331-8250 or send us an email.
Additional Reading and Resources
12 Boat Safety Tips that Might Just Save Your Child's Life
A Kid's Guide to Sailing Boats - article by Peter Whiting / Seattle Yachts. (Some of the content in this article comes from our MSC's article "How to Get Kids Hooked on Family Sailing," which is also listed as a source in the article).
Sausalito Yacht Club - Sausalito Yacht Club's programs are designed to teach all levels of sailing in a fun and safe environment.
Golden Gate Yacht Club - Golden Gate Yacht Club has a fantastic High School Program.
San Francisco Yacht Club - Youth Sailing at The San Francisco Yacht Club has a number of distinct components: Learn-to-Sail Instructional Programs, Race Teams, High School Racing, "All Age Programs," and Private Sessions are organized through the Youth Sailing Office.
Article by Mary Elkins on July 22, 2020