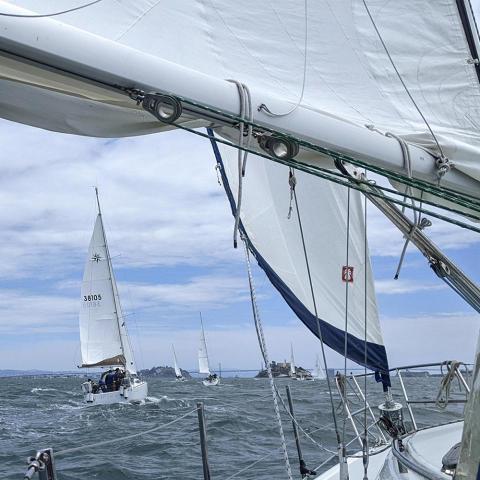 Is your company or department looking for fun and unique team building ideas in the San Francisco Bay Area?
Sailing toward a common goal has a way of bringing people together, so our Corporate Regatta Challenge is the perfect choice for team building. In teams of 4 to 6 per boat, race with your colleagues while your USCG-licensed captain provides coaching to help your team work together to maximize your boat's performance. No sailing experience is required for team members to participate.
Several Bay Area corporations such as LinkedIn, Facebook, Google, and Nike have selected Modern Sailing School & Club for their team-building events. 
Modern Sailing Club Members - refer your company to us for a Corporate Regatta Challenge team building event and earn a Corporate Regatta Referral Bonus! Choose one of two ways to receive your bonus:
Your company receives a 10% discount on package pricing, or;
You receive an account credit equal to 10% of the package price. You can apply this account credit towards a bareboat charter, course or clinic.
Questions? Call our friendly office at (415) 331-8250 or email us.