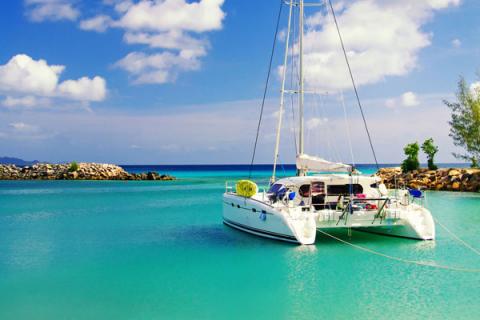 Modern Sailing is excited to announce our next Global Destinations adventure casting off January 2020! Join MSC as we return to the islands of the Caribbean and explore the unique cultures and histories of Antigua, Barbuda, and Guadeloupe.
Enjoy the warmth and beauty of these islands, each of which offer a wide variety of snorkeling, diving, island touring, hiking, and shopping opportunities. Tour the historic English Harbour of Antigua, stroll the white sand beaches of Barbuda, and taste the traditional sugarcane Rhum Agricole on the French island of Guadeloupe. This trip will feature skippered catamarans as well as bareboat options.
THE BOATS
Skippered - Moorings 4800 Catamaran
The Moorings 4800 catamaran is an exceptionally comfortable and spacious vessel. The 4800 provides large lounging areas for all crew off duty. A large galley and aft cockpit offer options for indoor or outdoor dining.  The forward cockpit provides a wonderful view while under sail, protection from the sun by an overhanging coach roof extension (forward bimini top), cup holders, and seating for 4+ persons. The helm is appointed with electric winches for easy line handling. All lines lead aft to the helm cockpit. Electric davits take the chore out of raising and lowering the dinghy.
Skippered - Sunsail 454 Catamaran
The Sunsail 454, built by Robertson and Caine, uniquely balances comfort, space, and a sailing performance unrivaled by most catamarans. She has a narrow profile and unlike traditional catamarans, points fairly high. She has easy access off the stern to swim. Electric davits raise and lower the dinghy. A forward cockpit, covered by the extended coach roof, is accessible through the salon's front door and increases lounging are under sail or at anchor. With the galley in the main salon, cooks, crew and guests can all socialize and contribute to meal preparation.
Bareboat - Sunsail 47-foot Monohull
Created by Philippe Briand, the Sunsail 47 is an elegant offshore cruiser with an exceptional interior and deck plan, designed with ease of handling in mind. Easy to maneuver with a surprisingly lively turn of speed, the Sunsail 47 combines clean lines and an elongated hull for great performance. Designed with the sort of spacious interior typically found on a 50-plus-footer, the Sunsail 47 is built for sailing in comfort and speed. This 3-cabin version has extra room in the saloon. At sail all lines are lead to the safety of the cockpit, simplifying short-handed sailing. The perfect long- and short-leg cruiser with electric winches and the latest furling systems, the Sunsail 47 is made to tackle anything from easterly Caribbean trade winds to north-westerlies across the Adriatic.
Bareboat - Sunsail 41-foot Monohull
Twin wheels and a large swim platform make spending time aboard the Sunsail 41 relaxing and comfortable.  Flush hatches and clean decks give the boat a sophisticated look while ensuring safe movements while on board. Special curved hatches and windows give the boat a sleek look while enhancing visibility and ventilation below. Down below, the attention to detail can be felt throughout with its contemporary interior design and light pouring in through numerous heliports and overhead hatches.
British History & A Taste of France: Cabin Pricing

Skippered Club Boats (prices are per cabin)

 
CABIN FOR ONE
CABIN FOR TWO
Early Pricing*
$6,200
$6,600
Regular Pricing
$6,800
$7,200

Bareboat (prices are per boat)

Sunsail 41 Premier (3-cabin/2-head)
$8,200
Sunsail 47 Classic (3-cabin/3-head)
$8,200

*Early Pricing expires July 15, 2019
**A deposit of $3,000 is due at the time of enrollment and remaining balance is due on or before September 1, 2019
See the Caribbean 2020 - British History & A Taste of France Information Packet for more details and proposed trip itinerary. Enjoy remote beaches, traditional food, and the unique culture of the Middle Islands of the Caribbean with Modern Sailing on our next Global Destinations adventure.