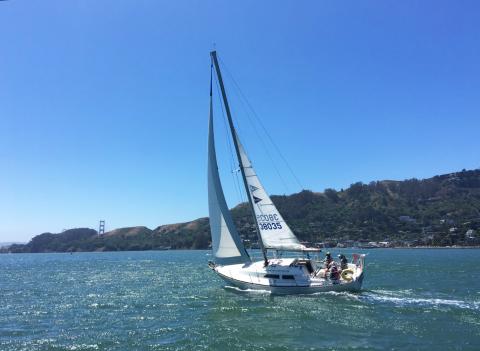 Last Updated July 7, 2020
On June 19, Marin County expanded its social guidelines to permit groups of up to 12 individuals within a "social bubble" to gather for outdoor activities. What does this mean for Modern Sailing?
Bareboat Charter Crews
Bareboat charterers can now expand their crew beyond their household to include members of their social bubbles. Masks are optional if your crew consists of those within your social bubble.
Bareboat Charter Availability
During Phase I and II of reopening, only Full Day reservations were available. To slightly increase our bareboat charter capacity, as of July 7, we are now able to offer half-day charters (noon check-in). Half-day charters are priced at the Full Day rate with a 15% discount applied. Your boat will be freshly sanitized in the morning before you arrive.
Staggered Start Times
To help reduce the number of people arriving at the office or docks at any given time, charter and class check-in times are staggered. Please be sure to arrive at the check-in time provided to you by your customer service representative.
Multi-Day Charter Discounts
To celebrate summer, Independence Day, and the re-opening of Ayala Cove's mooring field, we've also increased our special discounts on multi-day charters. The discount applies to the total charter rate for all consecutive days.
2 days = 20% off
3 - 5 days = 25% off
5 or more days = 30% off
Stay Safe
Masks are still required to be worn on the docks, near the office, and while aboard during Courses, Clinics, Club Sails, and Races. We encourage everyone to continue doing their part to limit the spread of COVID-19 by following the guidelines issued by Marin County. Learn More