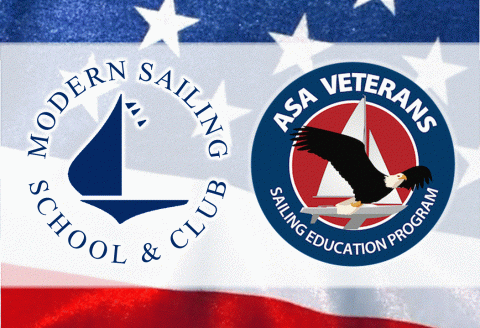 10% DISCOUNT FOR VETERANS ON SAILING LESSONS
Modern Sailing School & Club and the American Sailing Association (ASA) recognize the service and sacrifices of the men and women of our country's armed forces. To show our gratitude and appreciation, we invite veterans, active duty military personnel, and reservists to discover the joys of sailing with a 10% discount on our ASA 101, Basic Keelboat Sailing Course at Modern Sailing Sausalito or Inspire Sailing Berkeley!
Through the ASA's Veterans Sailing Education Program, discounted course pricing is:
$967.50 - weekend ASA 101, non-members (regular price $1075)
$805.50 - weekend ASA 101, members (regular price is $895)
$859.50 - weekday ASA 101, non-members (regular price is $905)
$715.50 - weekday ASA 101, members (regular price is $795) 
ADDITIONAL 10% MATCHING DONATION - SAVE UP TO 20%!
Former Modern Sailing club member Ernest Khirallah wishes to extend his gratitude to veterans by offering matching donations, which means that veterans can save up to 20% off ASA 101 in total! This offer is limited - sign up today!
HOW TO RECEIVE THIS DISCOUNT:
Step 1: Register on the ASA website and download or print your coupon. Veterans Registration - ASA
Step 2: Preview our ASA 101 schedule online to choose your preferred date(s). ASA 101 Schedule Online
Step 3: Email, snail-mail, or hand-deliver your ASA coupon to Modern Sailing and let us know your preferred course date(s). We'll contact you for payment, mailing address, and to confirm your enrollment. Email Us
Questions? Call our friendly office at (415) 331-8250.