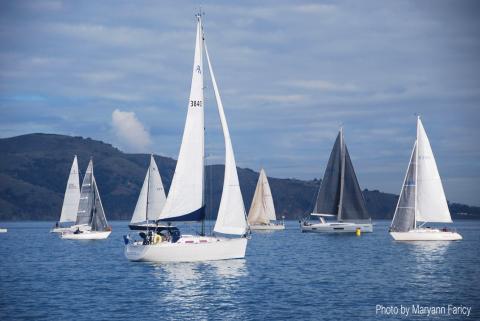 The annual Three Bridge Fiasco, produced by the Singlehanded Sailing Society, looked a bit different this year compared to previous years' races... Due to COVID-19, the 2021 race was limited to 125 entries, whereas past races have previously exceeded 300 competitors. Also, the race formerly welcomed both singlehanded and double-handed crews, but this year was restricted to only singlehanders. With the 125 entry limit capped less than 24 hours after registration open, aspiring competitors joined a waitlist. Upon a registered entrant's cancellation, a waitlisted racer would be selected for entry by lottery. 
MSC instructor and race coach Captain Mark Jordan was one of the lucky waitlisted racers who was selected by lottery after another racer cancelled. In his own words, Mark tells the story of his first singlehanded racing experience.
---
Racing in San Francisco Bay during winter usually rewards patience, and January 30th's Three Bridge Fiasco was no exception.
The day started with light, fickle winds of 1.5 to 5.5 knots - mostly closer to the low end of that range. My first leg, from Golden Gate Yacht Club to Red Rock took more than 4 hours, even on the flood tide, and even with my chute up. During the hour or so that I was parked with about 20 other boats behind Red Rock, desperately trying not to get sucked under the Richmond Bridge by the dying flood, I found myself constantly looking at my watch and muttering "OK, I'll give it another 15 minutes..."
My patience was rewarded around 14:00 when we finally got some real wind, by which I mean wind above 8 knots or so. Of course it was out of the southeast, so the trip from Red Rock to Yerba Buena Island ended up being a beat until we reached the north end of Treasure Island. At that point, the wind clocked around to the west, settling just abaft my beam, and allowing me to hoist my asymmetrical kite and pass a few boats. After that, it was rounding YBI, dousing the kite, and tightening the strings for a lively beat to Blackaller in about 12-14 knots of wind on a healthy ebb. The growling sound I heard about that time made me realize that I had neglected to eat lunch... not a great idea, and probably the reason I was feeling a bit of fatigue. But I rallied, and around the mark I went, a jibe and the final spinnaker set, and I found myself on the last leg towards the finish line between GGYC and the "X" buoy.
I crossed the line at 17:17. The first boat in my division to finish was Gordie Nash's "Arcadia" at 16:04. The difference came down to the choice of which mark to round first. The winning boats chose to fight the flood and light winds and go to Blackaller first, while I and a few others left Blackaller for last. Ironically, when I left my dock that morning, I was planning to go to Blackaller first. But when I got to the line, there was only 1 to 3 knots of wind. Even going close in towards Crissy Field, I couldn't find any counter current, so I just thought I would be better off starting with the flood and heading to Red Rock first. Sure, hindsight is 20/20, but frankly, in my view, there was some luck involved for the racers who chose to go to Blackaller first. About 30 minutes after my start, a 5 to 7 knot breeze came up out of the southeast. It only lasted for about 20 minutes, providing just enough power to get the Blackaller-bound racers around the mark, after which they scooted out to the the middle of the Gate and rode the conveyor belt flood through Racoon Strait to Red Rock. It worked out so well for them that they got to Red Rock at the same time I did. Ah well... sometimes you eat the worm.... sometimes the worm eats you! I have to give them credit... they did it just right.
The drama of the day was one sailor who involuntarily went for a swim towards the end of the race near Blackaller. I didn't witness it, but I know that two other competitors rescued him and got him reunited with his errant yacht. All's well that ends well I suppose, and the racers who helped were granted redress of 30 minutes. That actually put one boat ahead of me in my division - a fact which I had absolutely no problem at all with. If you ask me, the rescue was a true display of seamanship and sportsmanship, and a reminder that we sailors are part of a tight-knit brother-and-sisterhood out on the Bay and beyond. It's good to know we can count on each other when we are in trouble.
This ended up being longer than I meant it to be, so if you are bored and have stopped reading by now, I would offer you an apology - but you wouldn't get it! If you are still with me, I'd just say that if not for COVID leading to the elimination of the doublehanded divisions in this year's 3BF, I would not have chosen to race singlehanded. Maybe the silver lining of the pandemic apocalypse, for me, is learning how satisfying singlehanded racing is. Now that I've tried it, I'm already planning to do more (the Corinthian race on February 27th). It's hard work, and I'd be lying if I said it wasn't a little scary, but really, overcoming those challenges is what made it fun.
Although I only managed to finish eighth out of 11 boats that started in my division (Singlehanded Spinnaker PHRF 111 - 159 MW), given the fact that this was my first singlehanded race and the first time I singlehanded with my spinnaker, I felt like I accomplished something. Most importantly, I had a great time. As far as the competition itself goes, the real win for me was that I handily beat the only other Hanse 342 in the regatta by nearly 25 minutes! There aren't too many Hanses on SF Bay, and my boat is one of only three 342s that I'm aware of, so that means I get some bragging rights... at least until the next time we meet on the race course.
Next year I hope to see a few fellow Modern Sailing instructors in the Three Bridge Fiasco. During last year's race, MSC CEO Leigh Hunt and Instructor Cpt. Jimmie Marquez became my heroes when they took full advantage of the light winds by casually grilling sausages as they sailed backwards into a buoy (Yes, really! The proof is on YouTube.) This race is really fun!
Finally, if after reading this, you think you might like to give singlehanded racing a try, I'd offer two pieces of advice. First, If you're already an experienced racer, you should check the Singlehanded Sailing Society's website, find a race, and give it a go. Second, and this is very important - when things go wrong... don't blame the crew!
2021 Three Bridge Fiasco Race Results
---
Want to learn more about recreational sailboat racing on San Francisco Bay? Check out Modern Sailing's Recreational Race Program!