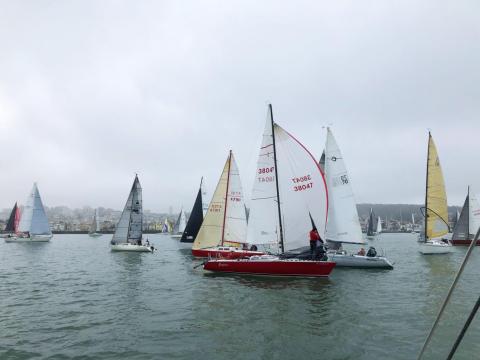 For his sixth consecutive year, Modern Sailing CEO Leigh Hunt participated in the Three Bridge Fiasco, a short-handed race hosted annually by the Singlehanded Sailing Society. Aboard the sloop Phoenix, one of MSC's Catalina 320s, Leigh was joined by MSC instructor and race coach Captain Jimmie Marquez for the second year in a row. The January 25 race was dominated by fog, clouds, strong tidal currents and light winds - and the usual "fiasco" of sailboats fighting to gain ground and avoid running aground, into obstacles - or into each other.
Three-hundred and seventeen boats registered for the race and only 40 managed to finish. Eight boats fought to stay in the race but ultimately missed the 7:00 PM cut-off by mere minutes. One of those 8 was Phoenix. Leigh and Jimmie stuck it out all day, alternating periods of fun sailing with becalmed spells of drifting at 2 knots as the tide nudged them slowly towards their next mark. Their route choice allowed them to stay in the game as the tidal currents moved them in the right direction - sometimes closer to the mark than they would have liked. Twice they were worried they would have to turn on Phoenix's motor (and thus get disqualified) to avoid crashing into red buoy #4 and Red Rock. Fortunately, late afternoon winds gave them a boost, but ultimately not quite enough to get across the finish line in time. Phoenix crossed the line at 7:09 PM, officially considered a DNF, but Leigh and Jimmie felt good about the choices that enabled them to round all the marks and cross the finish line.
Watch this short video of Leigh and Jimmie's close encounter with red buoy #4, occupied by a very outspoken pinniped, and see some beautiful photos taken by Leigh during the race.
Interested in experiencing the beauty, excitement, and camaraderie of sailboat racing on San Francisco Bay? Visit our Racing Program web page, call our friendly office at (415) 331-8250 or email us at office@modernsailing.com.
Article by Mary Elkins on February 3, 2020