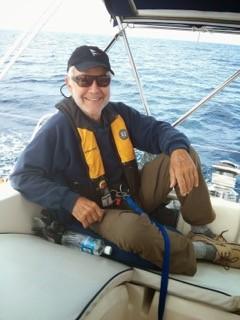 Wolfgang immigrated to the US over 40 years ago, just married and with a brand-new degree in electrical engineering. He established himself in the hi-tech industry initially as a computer design engineer, and later, after completing an MBA, as manager and executive at various Silicon Valley companies.
Having always had a dream of sailing to far-away places, 25 years ago Wolfgang joined a sailing school on the Bay and proceeded to climb the ASA certification ladder. In 1991 he began chartering boats on the Bay, followed by sailing in Southern California, in many parts of the Caribbean as well as in Thailand. Wolfgang crewed on Alaska Eagle in 2001, a 64-foot offshore racer, from Hawaii to Tahiti.
After many years of chartering, he acquired his own boat in 2009, an offshore cruiser made by Tayana. Now owning a capable ocean-going boat Wolfgang participated in the Baja Ha-Ha, sailing from San Diego to Cabo San Lucas and the Sea of Cortez. He has also sailed the California Coast numerous times. In 2014 ,Wolfgang participated in the Pacific Cup, racing from San Francisco to Hawaii and placing second in his division. The 25-day sail back from Hawaii in heavy weather added to his overall experience of the ocean.
Wolfgang earned his USCG Captain's credentials in 2012 in preparation for becoming a sailing instructor. Having always enjoyed teaching (Wolfgang was one of Santa Clara University's executive professors at the School of Business), he earned his ASA instructor certifications in 2013. Wolfgang started teaching at MSC in 2015.
Wolfgang's goal is for his students to become capable sailors confidently sailing San Francisco Bay. He feels that being able to sail the Bay is a great stepping-stone to successfully sailing anywhere in the world.
Additional Images: