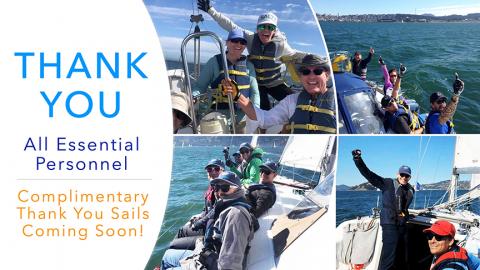 Thank you, medical professionals, hospital staff and first responders. Thank you, grocery, automotive and hardware store employees. Thank you, food service, postal and delivery workers. Thank you to everyone considered "essential personnel" who courageously served our community during the stay-at-home order to combat the COVID-19 pandemic!
For Modern Sailing School & Club, words are not enough to thank our heroes serving on the COVID-19 front lines. Sailing clears the mind, refreshes the spirit, and invigorates the senses, and sharing these healthy benefits – at no cost to COVID-19 essential personnel – is the best way we know how to show our gratitude!
Beginning December 2021, MSC will host complimentary Thank You Sails for essential personnel. Skippered by MSC's CEO Leigh Hunt, COO Bill Moreland, and our experienced instructors and Club Skippers, Thank You Sails will accommodate up to six passengers per sail aboard our comfortable and luxurious yachts.
Our Thank You Sails are open for enrollment starting in January.  If you are an essential personnel worker or a manager leading a team of essential personnel, please contact us and we'll reach out to you to schedule a complimentary three-hour Thank You Sail for you and your team to enjoy together.
Stay healthy and safe out there – and know that you are appreciated!