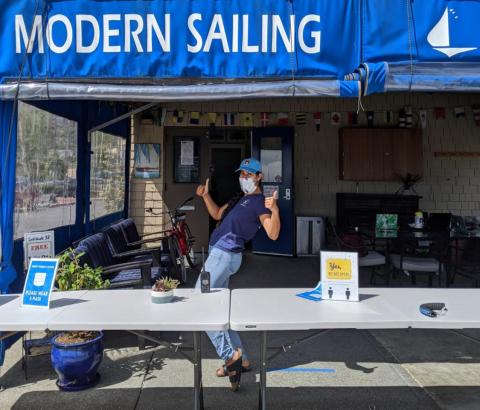 Last updated June 10, 2021
At Modern Sailing School & Club, we are adapting to a new reality, and it shows in the changes to the way our community interacts and the way we do business. To responsibly share the healthy benefits of sailing with our members and students, we've innovated modifications to our programs and operations. These modifications are informed by current Health Orders in Effect for Marin County in respect to social distancing, sanitation, and mask requirements. 
We are currently operating on our regular business hours of 9:00 AM to 5:00 PM, 7 days per week.
Mask Policy
Recent CDC guidance regarding wearing masks states that vaccinated persons are no longer required to wear masks in most outdoor circumstances. Also, Marin County's COVID-19 case rate has declined, placing the county in the Orange/Moderate risk tier, bordering on the Yellow/Minimal tier. San Francisco County has been in the Yellow/Minimal tier since early May.
As of May 19, 2021, our mask policy has been revised in alignment with new CDC and County health guidance. 
Outdoors: (such as while sailing) masks are no longer required. We continue to recommend that all non-vaccinated people wear masks.
Indoors:  (i.e., classroom-based courses such as ASA 105, or when entering the Modern Sailing office) Please don your mask.
We encourage all sailors to follow the CDC guidelines applicable to their vaccine status.
Program Modifications Status
On this page, you'll see at a glance how each of our programs has been modified for COVID-19 safety.
Please note that the status of the programs listed below are subject to change at any time in keeping with evolving public health guidance issued by the state and county. 
---
Sailing Education Programs
ASA Courses & Sailing Clinics
Private Lessons and Custom ASA Courses
Custom ASA Courses are very popular and available for booking upon request.
Private Lessons capacity depends on the size of the boat:

aboard Silver Fleet vessel: 4+ Instructor
aboard Gold / Platinum vessel: 5 / 6 + instructor

Skills Check-Outs (for new member fleet certification and membership upgrades) are being scheduled on a case-by-case basis.
Courses for Sailing Professionals
ASA Instructor Qualification Clinics and USCG Captains License Courses are scheduled for February through April 2021 with a class capacity of 6 (usual capacity 12). Certain sessions are held on the water and others will be held indoors in a large classroom. In the classroom, each student will be seated at his/her own table and spaced apart 6 feet or more. Masks are required indoors and out.
---
Bareboat Chartering
Full Day (9am - 8am next day) nreservations are available 7 days per week.
Sunset (4 - 8pm) reservations are available Monday through Friday.

Prime Time (9am – 3:30pm) and Sunset (4 – 8pm) reservation types are currently unavailable.

Charter forms are now all electronic. (Charterers will need to bring a mobile device with access to their email and an Internet connection.)
Online booking is available. Learn How To Book a Boat Online
---
Skippered Charters
Maximum capacities are restricted as follows:
Silver Fleet (30'- 32') vessels: 4 passengers and 1 captain per boat.
Gold Fleet (33' - 37') vessels: 5 passengers and 1 captain per boat.
Platinum Fleet (38' - 44') vessels and Catamarans: 6 passengers and 1 captain per boat.
Thank You Sails are currently on hold.
---
Member Events
Club Sails
Maximum capacities are restricted as follows (to include skipper and guest of skipper):
Gold Fleet (33' - 37') vessels: 6 passengers.
Platinum Fleet (38' - 44') vessels: 7 passengers.
Catamarans: 9 passengers.
Après Sail Socials
Après Sails return to Modern Sailing as of June 19. Après Sails are held in our outdoor lounge on alternating Saturdays and Sundays every weekend, from 3:30 to 5:00 PM. If you are not fully vaccinated against COVID-19, please wear a mask.
---
Race Program
Recreational Race Clinic
Maximum capacity is 5 race students per boat. 
Masks are recommended but not mandatory.
Races
Crew size is 5 racers maximum and 1 coach.
Masks are recommended but not mandatory.
Learn More about the Recreational Race Program.
---
Destinations Cruises & Flotillas
Local Destinations (Coastal Expeditions)
Farallones Day Trips capacity is 6 plus captain, whether aboard or bluewater cruiser Coho II or bluewater catamaran Kanaloa.
Drakes Bay and Halfmoon Bay Trips will run with no modifications after June 15. 
Global Destinations
​Global Destinations flotillas are not being coordinated at this time. Please check back for updates.
---
Sanitation and Safety
Our COVID-19 Office Safety Protocol promotes physical distancing, hygiene, and sanitization within the office and lounge area. This document also describes our safety procedures when interacting with charterers and guests.
After use, boats are thoroughly cleaned and sanitized according to our Fleet Sanitation Protocol.
Multi-day sailing courses will be held aboard a single boat for the duration of the course, unless a mechanical issue necessitates a boat switch.
Disinfectant cleaning products are available for use aboard.
---
Bareboat Chartering - Reservations, Check-in, and Electronic Charter Forms
All reservations and charter paperwork will be accomplished electronically via Internet, telephone, email, Google Forms, and VHF radio. (You do not need a Gmail account to complete our Google Forms.)
The day of your charter, be sure to bring your mobile phone or other mobile device with access to your email and the Internet.
Your electronic charter paperwork will be emailed to you the morning of your charter, providing links to each form. Your boat's slip number and lock combination are located at the top of the Boat Check-Out Form.
Payment for your charter will be processed with your credit card on file, unless you request another form of payment in advance.
Upon boarding the boat, turn on the VHF radio to channel 68.
Complete and submit the electronic Boat Check-Out Form on your mobile device.
When you are ready to leave the dock, hail the Modern Sailing office on VHF channel 68 and inform the team member that your check-out form is submitted. When the team member acknowledges, you are free to cast off and enjoy your sail.
After returning to dock and before leaving the boat, complete and submit the electronic Boat Check-In Form.
---
Doing Your Part 
All members and guests must wear a mask or other facial covering when inside the Modern Sailing office.
All individuals and charter crews are encouraged to maintain a minimum 6-foot distance between themselves and others (those not sharing a residence). When encountering others on the docks, please step onto a finger pier to allow them to pass.
If staying aboard overnight, as always, bring your own bedding, towels, and toiletry.
We recommend that you bring your own galleyware (dishes, silverware, cookware). If you do use any of the boat's galleyware, please thoroughly wash all items with soap and water and leave them in the sink or on the galley counter. A fleet technician will sanitize them before the next charter.
Multi-day charterers are responsible for their refueling and holding tank pump-outs, if needed, during the duration of the charter. Learn More about where and how to fuel up and pump out on SF Bay. 
Ready to set sail? To make a reservation, please call our friendly office at (415) 331-8250 or send us an email.

Thank you to everyone who is doing their part to help limit the spread of COVID-19 and to serve our community. We also encourage everyone to continue practicing physical distancing and careful hygiene, and to stay safe by staying informed. Learn more about how to stay safe at coronavirus.gov.