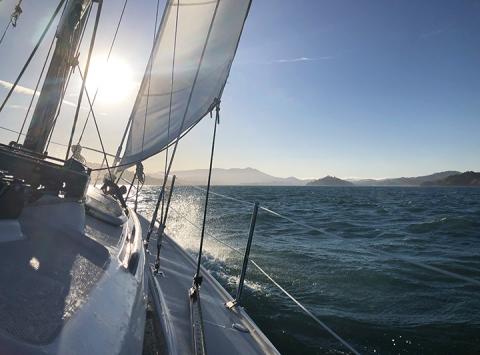 Pining for the scent of salt air, the cool touch of wind in your hair, the sound of water rushing over the hull, and the play of the helm in your hands? We know - it's not easy for a sailor to be stuck at home. Your friends at Modern Sailing are here to help (from a safe distance)!
To feed the sailor's hungry soul, here's a list of sailing and nautical-themed books, films, broadcasts, podcasts, webinars, blogs, YouTube channels, music, and apps enjoyed and recommended by our members and staff. Of course, nothing compares to the actual experience of sailing - but this should keep you entertained and inspired for awhile!
Books
Online Publications, Webinars and Broadcasts/Podcasts
Film
Wondering where these are available to stream? Just search the JustWatch database.
YouTube Channels
MSC Member Blogs
Music - Songs, Albums and Playlists
Apps/Games
Add Your Recommendations
Do you have a favorite sailing-related book, online publication, movie, YouTube channel, song, or app not included on this list? You can help keep your fellow sailors occupied by submitting your recommendations here.