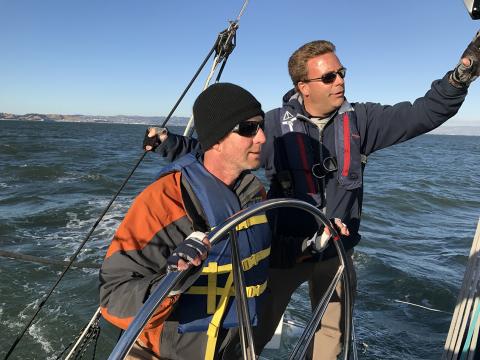 Are you considering sailing lessons and weighing the pros and cons of private lessons versus public courses or clinics? Here are five of the reasons why one or more private lessons may be ideal to help you achieve your personal sailing goals.
1. One-on-One Instruction at Your Own Pace
Some sailing students learn best in a group with other sailors of a similar skill level, while others may benefit from one-on-one instruction. Some will benefit even more from a combination of both. During your private lesson, your instructor's attention will be solely focused on you and helping you to develop your skills, technique, and confidence - at your own pace. 
Learn more about the differences between Private Lessons and public Courses and Clinics.
2. Refresh or Strengthen Specific Skills
If you are already have some sailing experience and would like an instructor's undivided attention to focus on refreshing or strengthening one or two specific skills, a private lesson is a perfect choice. Here are some ideas of a few skills you can focus on honing during a single 3 or 4-hour private lesson.
Fine-tune steering skills and basic maneuvers (tack, jibe, heave-to).
Crew overboard recovery - an essential skill for every sailor.
Anchoring
Mooring 
Docking
Sail trim
SF Bay navigation, including tidal, wind and traffic patterns specific to SF Bay. This is especially recommended for sailors new to San Francisco Bay.
Are you new to sailing? A private lesson under the guidance of one our expert and personable captains is a safe and comfortable way to begin learning some of the basics.
3. Earn ASA Certifications at Your Convenience
Are you having difficulty finding an ASA Course on our Schedule that synchs well with your schedule? With a Custom ASA Course, you can choose the dates for your ASA certification course. You also get to choose your classmates. Like a private lesson, the course can be all yours – or you can share it with a partner or a few friends.
Learn more about Custom ASA Courses.
Also, on rare occasion, a student may be unable to complete a prescheduled ASA course due to needing a bit more development in one or more skill areas. One of the options offered to these students to help cement the skills required to complete the certification is a private lesson discounted 30%.
4. Group and Family Lessons
Planning a multi-day expedition or vacation charter with friends or family? A group lesson can help you and your crew learn to operate a sailboat together safely and efficiently. Become fluent in a common terminology and hand signals to help your crew communicate effectively and avoid misunderstandings. Also, every crew member will feel reassured by learning how to perform a crew overboard recovery smoothly. 
US Coast Guard Regulations limit group sizes to 6 sailors. For group lessons with four to six sailors to be most effective, depending on the group's goals, plan on a session of 4-5 hours or more in duration or multiple sessions. This will ensure that everyone has time to practice the various skills and roles aboard.
5. Learn on Your Own Boat
If you own or have recently acquired a sailboat, gain the skills and confidence to safely take her out on the Bay by enjoying a private lesson with a Modern Sailing instructor aboard.
Learn more about private lessons on your own boat.
---
.What are the differences between Private Lessons and public Courses and Clinics?
Public classes (Courses and Clinics) are group classes posted on our Schedule well in advance of the class start date.

The boat and instructor are also reserved for the class in advance.
Enrollment is open to anyone over the age of 18.
If the class is full, students have the option to join the waitlist.

Private Lessons are sessions scheduled at the student's request.

The student has the option to choose the date, time, and fellow students (if any).
Minors are welcome to participate when accompanied by a parent or guardian.
When filling out our online Private Lesson Request Form, the student provides MSC with three possible dates for the lesson. We'll schedule the lesson one of those 3 dates based on boat and instructor availability.
Private lessons are most often scheduled for weekdays. On the weekends, our instructors and boats are often fully booked for public classes and charters.
For pricing and more information about Private Lessons, please visit our Skippered Charters Pricing page.
Do you have questions about how you can personally benefit from a Private Lesson with one of our outstanding instructors? Call our friendly office team at (415) 331-8250 or email us. We look forward to helping you gain the skills and experience you'll need to sail as far as your ambitions will take you!