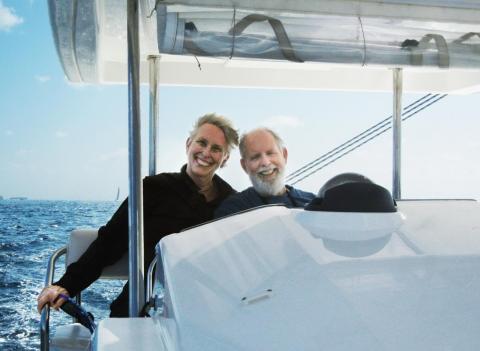 Love to share your love of sailing with your friends and loved ones? Learn about two ways Modern Sailing members can share the rewards of sailing and club membership with others.
---
Partner Memberships
Are you a Modern Sailing School & Club member, or interested in becoming a member? Consider sharing all the benefits of membership with a spouse, significant other, or relative! Partner members receive the same member discounts on ASA courses, Sailing Clinics, and Local Expeditions. You can both join and invite up to 2 non-member guests on our Club Sails, and partners have independent charter certifications, so you can charter separately or together.
Current Members
There is no additional initiation fee to add a partner to your membership.
Monthly membership dues increase by only $15 a month (from $45 to $60 per month).
New Members
The one-time membership initiation fee of $375 is the same for two people as it is for one.
Monthly dues of only $60 per month are charged to the primary member's credit card on file.
---
Referral Bonuses
If you already share your membership with a partner or a partner membership isn't for you, you can still share your love of sailing with others and all will be rewarded. When a member refers a new ASA student or member to Modern Sailing School & Club, we thank you both with Referral Bonus account credits.
The referring member receives a $100 Referral Bonus when the referred party joins the club or signs up for an ASA course. You can apply this account credit towards payment for an ASA course, clinic, or bareboat charter.
The referred party receives a $50 Referral Bonus account credit. This credit cannot be applied to the initial purchase, but can be applied towards a future ASA course, clinic, or charter.
Ready to add a partner to your membership, refer a new member or student, or have questions? Please call our friendly office at (415) 331-8250 or email us.