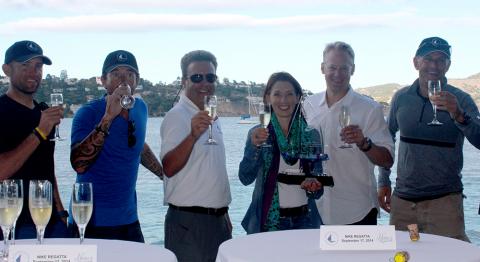 Nike Leadership Experiences the Best the Bay Area Has to Offer with a Modern Sailing Corporate Challenge.
In September 2014, 14 members of Nike's executive team were in San Francisco for a leadership review. Noble Engagements, a bay area destination management company, partnered with MSC to deliver a unique day of team building, beginning with a Corporate Challenge sailing Regatta.
The Nike teams, each with 5 active participants and two MSC race coaches, raced three boats along the America's Cup course. SF weather cooperated perfectly, with 15-25 knots of breeze on a beautiful sunny afternoon. A very close start was followed by a highly competitive upwind leg and an exciting first mark rounding, which ended up determining team Allegro's victory, led by Race Leader Stephan Sonnenschein.
 
The Nike team had a blast, and finished the day saying, "That was awesome, we'll be back!"