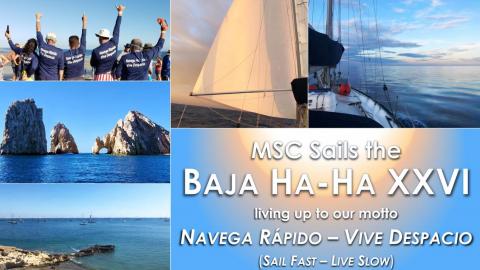 For CEO Leigh Hunt, Modern Sailing's first participation in the Baja Ha-Ha XXVI Cruisers Rally was the fulfillment of a dream many years in the making. Captains Kira Maixner, Jeff Cathers, and Blaine McClish gladly joined to help sail Coho II and gain offshore experience towards their ASA 208 certifications along the way. Andiamo owner John Squire brought his past Ha-Ha experience to support the team of first timers. For all their hard work and many hours of preparation for the Rally, our crew of 5 were rewarded with all the lively social mixing and wild beauty of ocean sailing that every cruising sailor thirsts for.
From November 3 to 16, sailing three legs over 800 ocean miles including overnight passages, Coho II and crew proved their capabilities. In light breezes and heavy winds, warm sunshine and cool sprinkles, Coho II sailed with both grace and power, earning the respect and fondness of her crew.  
Jeff Cathers wistfully recalls one peaceful overnight passage. "With very little wind coming from behind us, we sailed beautifully all night long, flying wing-on-wing with our reacher Ghost poled out, while most other boats around us motored."
Encountering winds up to 30 knots on Leg 2, Coho II reached her Ha-Ha peak speed of 10.4 knots. "This old girl can move!" Leigh remarked. To conclude the thrilling passage, the MSC crew anchored at Bahia Santa Maria on Day 8 and joined other Rally sailors ashore for the epic (if not infamous) Baja Ha-Ha beach party, which Captain Kira says was "truly one for the books."
Between passages resting at the Turtle Bay, Bahia Santa Maria, and Man of War Cove anchorages, the crew enjoyed the cruising lifestyle with hammock lounging, afternoon swims, BBQ, hiking excursions, and socializing with other cruisers. Leigh and Jeff got further into the cruising spirit by shunning their razors, and soon the only smooth face aboard was Kira's.
Completing the final leg of the Ha-Ha, Coho II arrived in Cabo San Lucas to achieve an impressive 2nd place finish in the "Huevos Rancheros" division. With Tropical Storm Raymond rumbling towards Cabo, they didn't linger there for long. On November 17, the MSC crew set course for a safe harbor in La Paz. Although the Ha-Ha was officially over, the most magical sailing was yet to come. Making excellent time running from the storm, the crew enjoyed a visit from dolphins, wondered at sparkling bioluminescence in their wake, and were awed by a vast tapestry of looming clouds punctuated by lightning in the distance.
Still buzzed by the experience, the crew is already looking forward to next year's Baja Ha-Ha! In the meantime, Coho II is back in Cabo San Lucas after her tour of the Sea of Cortez with Captain Blaine McClish and clients. She will soon head north for the "uphill bash" back to San Francisco Bay. From San Diego, Coho II will be crewed again by Jeff, Kira and Leigh, and Captain Jimmie Marquez and office team member Ruth Atkins will join them. We wish them a safe and successful journey!
Hats off to Blaine McClish, Jimmie Marquez, Kira Maixner, Jeff Cathers, John Squire, Bill Moreland and the fantastic team at Modern Sailing who all made Coho II's Mexico campaign possible. It takes a community of sailors to make a sailing dream come true. THANK YOU!
For many more photos and videos of this adventure and those to come, follow us on Facebook and Instagram!
Article by Mary Elkins on December 5, 2019