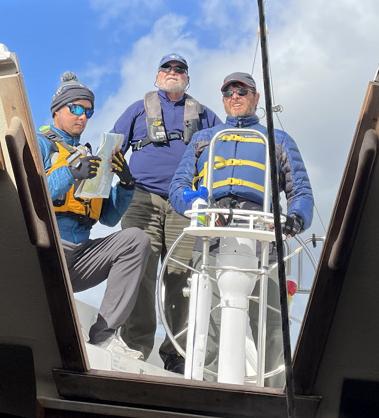 Are you going for one or more ASA certifications? Want to know what you can do to maximize your odds of successfully completing your course? What are some of the scenarios that may lead to course incompletion? If you're unable to complete the course, what are your options to earn your certification without taking the course all over again?
To earn certification, ASA course students are assessed by two means:
On-the-water skills assessment. On the final day of your course, your instructor will observe as you demonstrate the skills practiced during the course. If you are unable to demonstrate the required skills, the instructor will recommend additional practice for you. 
 
Written examination. Most ASA course tests consist of 100 multiple-choice questions, but some consist of fewer questions and/or a mix of multiple choice questions and written responses. A score of 80% or higher is required to successfully complete the exam.
ASA 105, Coastal Navigation and ASA 107, Celestial Navigation are the only exception to the above. As these are classroom-based courses, there is only a written exam and no on-the-water skills assessment.
We want every sailor to be the best prepared to gain the most from every course. Although it's very rare for a student to end a course without earning certification, on occasion, it does happen. Modern Sailing has a plan to support and guide students who may require a bit of additional study or practice to meet the ASA's certification standards.
First, let's look at how to increase your odds of success.
---
"The best possible preparation of success is empower yourself with trust in self capabilities." — Anil Sinha
ASA Sailing Courses Exam Preparation
Read Your Course Textbooks in Advance
Your ASA course textbooks are included in the purchase price of your course and your best preparation for any course is to read the textbooks. (This includes ASA 118, Docking Endorsement.) Pay particular attention to those end-of-chapter notes and questions, as they will provide clues as to the type of questions you'll see on the exam.
For ASA 105, Coastal Navigation, pre-study is especially helpful. The course comes with a textbook and a practice chart. The textbook will guide you through some charting exercises that are excellent preparation for the class.
Some courses like ASA 106, Advanced Coastal Cruising are supported by the reading of non-ASA texts, such as The Annapolis Book of Seamanship by John Rousmaniere. Please be sure to review your enrollment confirmation email to check for any additional recommended book titles.
If you enrolled in your course online, know that Modern Sailing will mail out your book(s) within a week of your enrollment. If you enrolled in a course that starts within a week or less of the date you signed up, please call the Modern Sailing office to request expedited shipping. If you live nearby, you can pick up your book(s) in the office. Just be sure to call the office right away if you'd like to pick up your books or request expedited shipping.
Visit the ASA Website to Learn About Certification Criteria
Visit https://asa.com/certifications to see the knowledge and skills criteria that you are required to demonstrate for each course in order to earn its certification.
Before ASA 101, check out Your First Sail: A Free Online Sailing Course on the ASA's website and / and try the ASA Sailing Challenge App.
Go Sailing with Experienced Sailors
There is a reason we require 6 on-the-water days as a prerequisite to ASA 104. There is no substitute for hands-on experience and sailing with seasoned mentors.
Membership with MSC connects you with a community of sailors to learn with and from. Club members not yet certified to bareboat charter can join Club Sails to make friends and find mentors. Just be honest about your skills, experience, and goals, and it's usually not very long before someone on board (or several people) encourage you to try new things while providing some guidance in the process. Members can also join the Facebook Modern Sailing Crew List and/or Crew List (email distribution list administered by MSC) to connect with other members to go sailing with. To request to join the Crew List, please send us an email.
---
"Preparation doesn't assure victory, it assures confidence." ― Amit Kalantri, 'Wealth Of Words'
What are some scenarios that may lead to incompletion of an ASA course?
There are various reasons that a student may be unable to finish a course or successfully earn the certification:
•  The student has missed 50% or more of the course due to illness or emergency.
•  The student has correctly answered less than 80% of the questions on the written examination.
•  The student is unable to demonstrate the on-the-water skills required to earn the certification.
---
How can you earn the certification if you were unable to complete the course?
A few days after your course ends, a Modern Sailing customer service representative will email and/or call you to let you know your instructor's recommendations to help you complete the course. Depending on your unique situation, your options will be one or more of the following:
Re-take the Written Exam
If you were absent on exam day or answered less than 80% of the questions correctly, you can schedule a time with the office to retake it. There is no cost to retake the written exam.
Development Clinics
Your instructor may recommend that you complete a Development Clinic. If this is the case, your Development Clinic instructor will help you practice the skills required to earn the certification. He or she also has the authority to state whether your participation in the Development Clinic was sufficient to earn the course certification. Learn more about Development Clinics.
Private Lesson
We offer reduced rates on private lessons for our ASA course students needing some one-on-one training to help build on-the-water skills in one or more areas (and ultimately earn the certification).
Member Rate
•  30% off a 3-hour private lesson ($500 – 30% = $350.00)
Non-member Rate
•  30% off a 3-hour private lesson ($595 – 30% = $416.50)
During the lesson, your private instructor will focus with you on developing the skill areas that your course instructor had identified as needing more practice. After you are able to successfully demonstrate the skill(s) to your private instructor, he or she can deem your course complete and we will notify the ASA that you have earned the certification.
1-Day Course Drop-In
Call our office the day before an upcoming course is to begin to find out if there are any Drop-In seats available. If so, you may be able to complete your certification by "dropping in" on another class. The cost to Drop-In is only $175.
Questions? Please call our friendly office at (415) 331-8250 or send us an email.