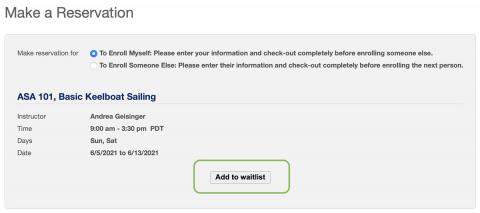 Waitlisted? Wondering what's next? What happens when someone cancels their enrollment in a class you've waitlisted for? How do you confirm your enrollment when a vacated seat is offered to you? How do you manage your waitlisted classes to avoid getting called when you no longer want a seat you waitlisted for? With this article, get answers to these questions and more! Learn all about waitlists and what to expect when you join one or more waitlists.
When browsing the Schedule webpage on our site to enroll in one of our offerings, you may notice that some offerings are missing the blue "SIGN UP" button. This means that the class is full.


However, you can still join the waitlist by going to the Schedule through your Modern Sailing Online Account. Click on the tab to browse the schedule for the type of offering you're looking for (Sailing Courses, Clinics, Club Sails & Races, MSC Expeditions).
You'll notice that classes missing the "SIGN UP" button on the Schedule webpage will show a blue "Sign Up Now!" button in your Online Account. When you click this button, your browser will be directed to the "Make a Reservation" screen, as shown in the screenshot below.
If you'd really like to join the class, go ahead and click the "Add to waitlist" button! This gives you a chance of joining the class if one of clients enrolled on the roster needs to cancel.
Waitlists Basics and Tips
There's no cost to join a waitlist, but to help simplify the process, you may pre-purchase the offering in your Online Account / ONLINE STORE, if you wish.
Waitlists help guide our decisions about adding more offerings to the Schedule. If we have a large waitlist and a boat and instructor are available, we'll add another class and contact waitlisted clients to give them first dibs on the seats.
Classes' waitlist capacities are equal to double the class capacity. For example, ASA 101 has a class capacity of 4 students and the waitlist capacity is 8. If there are 8 clients on the waitlist and you try join it, you'll receive an error that the waitlist is full.
You can view all the classes you are waitlisted for and manage your waitlists in your Online Account. (We'll give you more detail about that below.)
When browsing the schedule in your Online Account, it's not obvious which classes are waitlisted until you click into them individually. To help make choosing classes a bit easier for you, in every Weekly Newsletter email, we list all offerings on our schedule and indicate whether a class currently has a waitlist or 1 seat left. (If there's no indication that it has 1 seat left or has a waitlist, that means there are 2 or more seats available.) If you aren't receiving our Weekly Newsletter, you can subscribe here.

What is "waitlist promotion?"
When an enrolled client cancels from an enrollment roster (Course, Clinic, Club Sail, Race, etc.), a client on the waitlist can be "promoted" to the enrollment roster to occupy the vacated seat.
How does waitlist promotion work?
Waitlist promotion behaves differently depending on whether the enrollment is a one-day or a multi-day offering.
One-Day Enrollments (such as Club Sails, Races, Introductory Sails, 1-Day Sailing Clinics, ASA 118, and Farallones Day Trips:

When a seat is vacated by a cancellation, the first client on the waitlist gets promoted automatically to the roster.
Automatic promotion happens only when the cancellation occurs outside the cancellation window. In other words, if a seat opens in a clinic within 72 hours of the start of the clinic, the client will not get auto-promoted to the roster.
When you are auto-promoted, you will receive a text message on your mobile phone (if you have text notifications enabled) which informs you that you have been added to the enrollment from the waitlist. You are given the option of confirming or declining by answering "Y" or "N".

To ensure that you have text message notifications enabled, go to your Online Account / My Info / Profile, as shown in the screenshot below.
When auto-promoted from a waitlist to the enrollment roster, you will also receive an email that asks you to email or call the office to confirm your attendance. 
Dear <CLIENTFIRSTNAME>,
This confirms that you have been added from the waitlist to <CLASSNAME> with <INSTRUCTOR> at <STUDIONAME> <LOCATION> on <DAYS>, <DATE>. Class will start at <TIME>.
Please Call or Email to confirm your reservation.
Multi-Day Enrollments (such as ASA courses except for 118, Recreational Race Clinics, Gold Fleet Upgrade Clinic, Club Skipper Clinic, Drakes Bay Trip, and Half Moon Bay Trip):

When a seat is vacated by a cancellation, clients do not get promoted automatically to the roster.
Modern Sailing team members scan all enrollments daily to ensure that any seats vacated by cancellations are offered to those on the waitlist.
When a vacated seat is found, a team member will manually promote the first person on the waitlist to the roster, which generates the text message and email asking for confirmation. 
If the client does not confirm enrollment by the next day, those remaining on the waitlist will be called in order and the seat will be reserved on a first-come, first-served basis. So, if you're on a waitlist and you see a call from Modern Sailing come through on your phone, do your best to answer it. If you're unable to answer, the team member will leave a voicemail. The first person on the waitlist to answer or return the call and confirm enrollment will fill the vacancy.
Your enrollment is confirmed - great! You're almost done!
After you've confirmed your enrollment, be sure to cancel yourself from any other waitlists you may have joined for that same type of offering. Otherwise, you may continue to receive calls or text messages should seats be vacated. Go to your Online Store / MY INFO / My Schedule and click on Waitlist, as shown in the screenshots below.



If you have pre-purchased the offering, the payment will automatically apply to your enrollment. If not, please contact the Modern Sailing team as soon as possible to take care of the payment.
Questions? Please call our friendly office team at (415) 331-8250 or email us. You can also find many helpful articles about using your Online Account on the Member Resources section of our website. (Apply the Website & Account How To's filter to simplify your search.)