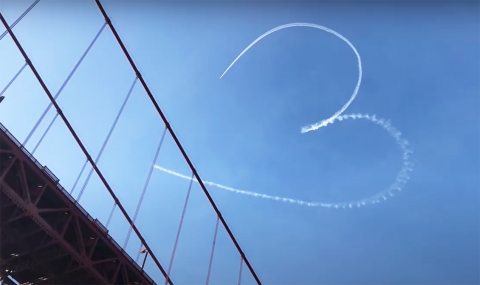 Modern Sailing members and students with reservations to sail this Labor Day will be treated to a unique spectacle out on the water - the Heart of San Francisco Celebration! Members with a bareboat charter reservation on Labor Day also have the unique opportunity to join the flotilla.
The Heart of San Francisco is a COVID-19-safe community celebration, flotilla, and skywriting spectacle produced by Antenna Theater. Learn More
Do you have a bareboat charter reservation on Labor Day and an interest in joining this historic flotilla?  Let us know your theme and we'll connect you to the event organizers for registration. (To join in the fun, plan to decorate your charter boat and/or attire your crew in any theme of your choosing.)
Charterers are also welcome to simply sail safely in the vicinity of the flotilla and enjoy the unforgettable spectacle. Haven't reserved your boat yet? To make your charter reservation, call our office at (415) 331-8250 or email us.
Event Highlights
Vessels of all kinds will sail and motor the Bay to watch a skywriting plane draw four hearts over the Bay Area. The flotilla will be proudly headed by the tall ship, Matthew Turner. Each Heart will be a mile high and visible from yards, decks, buildings, marinas, and shorelines.* The first Heart will be drawn over the Golden Gate Bridge, then the plane will fly to Angel Island, Treasure Island and mid-Market Street.
*If you leave your property, remember to wear a mask and practice safe social distancing.
Event Schedule
2:00 PM on Labor Day, vessels will begin to gather near the Golden Gate Bridge.
2:30 PM A livestream audio and video show available via YouTube will begin. Live commentary broadcast from near the GGB will present both pre-recorded and live views of this day around the Bay. Music and performance pieces are included.
3:00 PM The sky plane will begin drawing the Heart of San Francisco above the Golden Gate, followed by subsequent hearts.
4:30 PM The fourth heart is drawn above mid-Market Street to assure that folks in the Mission, Castro and surrounding neighborhoods may join in the fun. Live stream ends.
Watch Antenna Theater's promotional video.
Watch the LiveStream beginning at 2:30 PM on Monday, September 7.