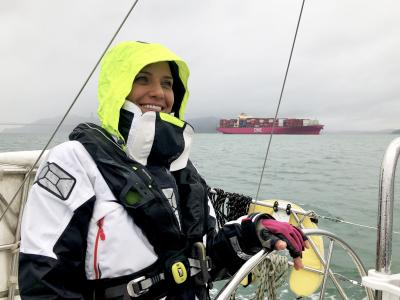 Senior Customer Service, Sales & Marketing Representative / Outbound Marketing and Website Content Writer
A Bay Area native, Mary spent most of her adult life landlocked and working in the IT industry in Colorado. While employed full-time and raising three sons, she managed to indulge her love of nature and thirst for challenge and outdoor adventure through trail running, backpacking, and mountain climbing. Pining for the ocean, she returned to California in 2013 to seek new adventures. With her first sail on San Francisco Bay in March of 2016, she was immediately smitten. By her third sail, she firmly decided: "I have to find a way to make this my life."
In April of 2017, she left the cubical life behind to work at Modern Sailing School & Club. After serving as a Customer Service Representative and Executive Assistant to the CEO for more than a year, Mary received a promotion as the Senior Customer Service, Sales & Marketing Representative. She also sailed the Bay frequently and completed ASA courses up to ASA 106, Advanced Coastal Cruising and became a skilled sailor thanks to her friends and mentors at Modern Sailing.
In addition to supporting the office team as a technical systems and process analyst, Mary is passionate about her role to plan, write, and produce outbound marketing, website, print, and video content for Modern Sailing. You'll also see her in the Modern Sailing booth at events such as the Pacific Sail & Power Boat Show.
In late 2020, Mary's biggest sailing dreams came true when she moved to the Caribbean with her significant other. While she continues to enjoy working for Modern Sailing remotely, they live aboard and explore the Caribbean Islands on their Oyster 435 with their cat Jasper and dog Dexter. Mary also plans to obtain her OUPV Captain's License in the future and to continue sharing her passion for sailing as an ASA instructor and sailing photojournalist.