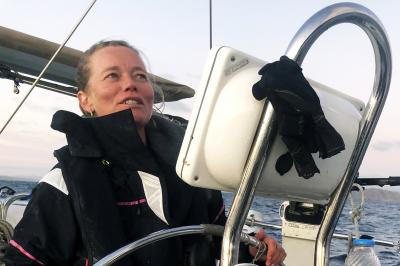 Captain Sophie immigrated to the USA from London, England in the late eighties. A certified yoga teacher with BAs in Sociology and Business Administration and mother of two girls, Sophie raised her family in the Arizona desert, all the while feeling a growing call to the sea. Also a lover of the arts, music, and flamenco, Sophie operated a small flamenco dance school and held regular performances for the community. She is also a guitar/cajon musician and loved to dance with her "gypsy band."
As Sophie's fascination with the ocean began to manifest, she pursued higher education in oceanography, doing most of her research in the Sea of Cortez, Mexico. In the process, she began learning how to sail on Lake Powell and in the Sea of Cortez.
In 2013, Sophie relocated to the Bay Area from Tucson and began to pursue a maritime career. With obtaining her Master's Degree in Oceanography, she discovered that focusing on the positive aspects of ecology, adaptation, and resilience was her forte, and that sailing fit right into her niche as a naturalist and educator. After learning to sail, Sophie bought a  sailboat of her own and began to work as a deckhand and naturalist in the sailing charter industry. As her career developed, she crewed on many vessels from educational tall ships to modern race sailboats. Sophie has sailed across the English Channel to France and back, in the Bahamas and Virgin Islands, the Sea of Cortez and along the coast of Baja California.
As a USCG Captain and ASA Instructor, Sophie is particularly interested in promoting women at the helm. She is also currently the proud owner of a Baba 30 with dreams to take to the sea in the near future.