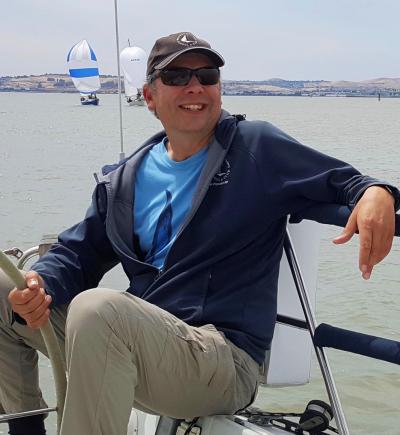 Race Program Director & Instructor
A native of Germany, Stephan began sailing in the Netherlands in 1997. He has been sailing the San Francisco Bay since 2005. Stephan has been in races at many of the Bay's yacht clubs on boats ranging from his own 14' Weta racing trimaran to 45' racer/cruisers. He also owns and races an Olson 34'.
Stephan joined Modern Sailing's race program as a coach in 2015 and became Race Program Director in 2016. In addition to overseeing the race program and training racers, Stephan also teaches ASA courses and skippers private charters.
Stephan is enthusiastic about every aspect of sailing from knots and splices to polars and racing electronics. He enjoys all kinds of boating activities around the Bay from racing in the slot to cruising down the river to Petaluma. His love of sailing and the San Francisco Bay has made him a natural and enthusiastic teacher of the sport. His local knowledge of the Bay and its attractions and history make him an excellent guide on the water when chartering a boat.