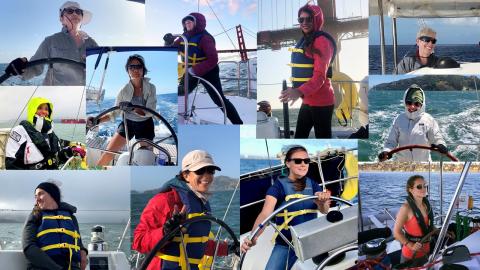 Introducing Wind & Women
Modern Sailing School & Club is excited to announce Wind & Women - our women's sailing program launching in Spring 2019! While we believe that anyone can learn from any of our excellent instructors, we are eager to create a supportive and encouraging program where women support women in reaching their sailing goals.
Women Take the Helm
The legacy of women in sailing dates back to the 1700s with infamous pirates Anna Bonney and Hannah Reed aboard the pirate sloop Revenge. Throughout history, women have been making their mark in the sailing community, setting circumnavigation records, leading all-female race teams and making it clear that the sea is a big enough challenge for both men and women. From Krystyna Chojnowska-Liskiewicz, the first woman to circumnavigate the world, to Laura Dekker - the youngest, and Jeanne Socrates - the oldest, female sailors have been adding their finesse to sailing for centuries. (To read more about cool women sailors, see A History of Women in Sailing and 13 Top Female Sailors.)
Learn to Sail on San Francisco Bay
Wind & Women is focused on building this legacy and growing the community of female sailors who make the Bay Area their home. Taught by Captain Kira Maixner, courses accommodate all skill levels providing an inclusive and open atmosphere for learning how to sail confidently. Even the unique biomechanics of the female body means taking a different approach to moving around the boat and powering up the sails. Take the helm, hone your skills, and skipper like a pro!
If you are always the crew and never the captain then these courses are for you. Join the Wind & Women and sign up for one of our American Sailing Association 101 or 103 courses in 2019!
There are three ways to sign up for Wind & Women courses - call (415) 331-8250, email us, or enroll online using one of the links below!
| COURSE | MEMBERS* | NON-MEMBERS* | COURSE DATES |   |
| --- | --- | --- | --- | --- |
| ASA 101, Basic Keelboat Sailing | $775 | $895 | April 6 - 7. 13 - 14 | Enroll Online |
| ASA 103, Basic Coastal Cruising | $875 | $995 | June 1 - 2, 8 - 9 | Enroll Online |
| ASA 104, Bareboat Cruising** | $1095 | $1295 | June 28 - 30 | Enroll Online |

*Pricing for Wind & Women courses is the same as for co-ed courses.
**Click here to learn more about ASA 104 prerequisites.
 
Mary Elkins, Manager of Customer Service, Sales & Marketing at MSC & Captain Kira Maixner, MSC Instructor and Wind & Women Champion