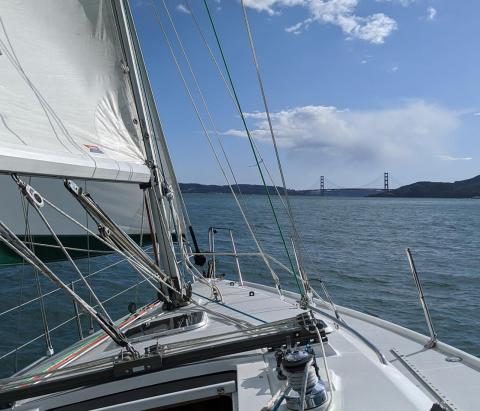 Modern Sailing School & Club's "Prepare to Take the Helm" Webinar Series makes it possible for you to improve your sailing even when you're not on the water. The series currently consists of two learning tracks, each with three unique lessons delivered by our outstanding sailing instructors.
Students have the option to participate in all 3 lessons of a track or sign up for a single lesson. Each lesson provides an hour of instruction and a 30-minute question and answer session.
Price: $75 for all three lessons in a track or $35 for one lesson.
Required Equipment: Internet connection, computer with webcam or mobile device with camera, microphone, and audio capabilities.
---
WEBINAR TRACK 1 - Discover San Francisco Bay by Sail: Local Destinations and Beyond - Learn More
WEBINAR TRACK 2 - Mastering Seamanship: Advanced Sailing Techniques and Tools - Learn More
---
Bonus with Purchase of All 3 Lessons for MSC Club Members: Purchase all 3 lessons and receive a $50 credit to apply towards payment of a future bareboat charter! When you wish to redeem your credit, be sure to inform your customer service representative upon checking in at the office on the day of your charter. (This offer cannot be combined with other Specials such as the Black Wednesday Special, Silver Skipper Holiday Special, or Resolve to Sail Special.)
---
WEBINAR TRACK 1 – Discover San Francisco Bay by Sail: Local Destinations and Beyond
We invite you to take a closer look at San Francisco Bay - a treasure trove of unique destinations to enjoy discovering by sailboat.
In these "bite-sized" live online lessons, you'll learn how to make the most of your bareboat charters with expert guidance from the people who have sailed and navigated our favorite waters for decades. Our USCG Licensed Captains and ASA Certified Instructors share their seasoned advice on the best itineraries, anchorages, and overnight destinations in the Bay and beyond. The Track is split into three 1.5-hour lessons that will prepare you for one-day, overnight, and multi-day charters.
Each lesson comes with a printable mini-cruising guide to keep in your sailing bag as a quick reference when planning your next charter.
Track 1 Lessons
Lesson 1.1: One-Day SF Bay Destinations
The San Francisco Bay is divided into three sections – North Bay, South Bay and Central Bay. Each part has its own picturesque anchorages with unique features that make for an exquisite afternoon at anchor. Your instructor will guide you in planning a day sail, giving in-depth information on how to navigate the bay according to tides and currents, recommendations for which destinations offer the best protection, anchorage approaches and safety guidelines.
Lesson 1.2: Best Three Overnight Locations in Central and South Bay
In this lesson, you will explore overnight destinations within the San Francisco Bay. From Sausalito to Jack London Square, your instructor will guide you through a two-day, one-night itinerary highlighting three of SF Bay's supreme anchorages. Your instructor will also cover each destination's attractions and challenges, anchorage approaches, marina briefings, safety advice, and multi-day charter meal planning and provisioning tips.
Lesson 1.3: Sail and Explore the Delta
Take your overnight destinations to the next level! In this session, you will explore overnight itineraries and multi-day expeditions beyond the San Francisco Bay. This lesson begins with a brief introduction to the Sacramento-San Joaquin Delta and the San Pablo and Suisun Bays, featuring the shipping lanes, draw bridges and traffic you will encounter along the way. The instructor will outline an itinerary up the Delta highlighting attractions, safety advice, and approach information for marinas in Vallejo and Benicia.
Track 1 Lesson Dates
| | |
| --- | --- |
|   | Tuesdays 6:30 - 8:00 PM |
| Lesson 1.1 | July 20 |
| Lesson 1.2 | July 27 |
| Lesson 1.3 | August 3 |
---
WEBINAR TRACK 2 - Mastering Seamanship: Advanced Sailing Techniques and Tools
Take your sailing to the next level! In the second installment of our Prepare to Take the Helm webinar series, you will learn essential practices and effective techniques to enhance your sailing skills. With this three-lesson track, gain knowledge of advanced sail trim techniques, emergency preparedness, and helpful sailing apps from our experienced USCG-licensed captains and instructors.
Track 2 Lessons
Lesson 2.1: Sail Theory and Advanced Trim for Cruisers
Trim in? Ease out? What are those tell-tales saying?! Sail trim is one of the most challenging – and rewarding aspects of cruising. In big winds, improperly trimmed sails can result in uncomfortable sailing with excessive heeling and unruly weather helm. In light winds, an improperly trimmed sail can leave the crew bobbing and bored. When properly trimmed, the mainsail and jib will harness the wind, power your vessel forward, and generate the smooth ride that every sailor craves.
In this webinar lesson, attendees will gain a broad understanding of sail theory, including aerodynamics, center of effort and center of lateral resistance, the importance of air flow, angle of attack, and proper sail shape. Attendees will learn how to read their sails and properly apply equipment aboard to achieve desirable sail shapes for a variety of wind conditions. This webinar is ideal for sailors with a general knowledge of sail trim who want to improve their boat speed, sail handling, and overall enjoyment of sailing.
Lesson 2.2: Adverse Conditions and Emergency Response
Prudent preparation, or advance planning and knowing how to react to a variety of circumstances, is one of a sailor's most essential skillsets. In this lesson, sailors will learn how to handle emergencies and respond to critical situations. Beyond putting in a reef when the wind kicks up, your instructor will review heavy weather sailing techniques, what to do if your engine fails near a lee shore or in a busy channel, and how to receive a tow. You will also learn about anchoring in emergencies or foul weather and techniques for docking in 15 to 20 knots of wind. Sharpen your sailing skills with this webinar and be prudently prepared for whatever your day on the water will bring. 
Lesson 2.3: Apps to Enhance Your Sail
Sailing – of course there is an app for that! Several apps, in fact. Get the best sailing app advice from your instructor and learn how to use the special features included in apps that predict the weather, help you set a course and record your track, provide real time tide and current datum, help you book guest slips, and even ease your anchor watch. If you are asking yourself about which apps can help make planning your sailing expeditions a breeze, this is the webinar for you.
Track 2 Lesson Dates
| | |
| --- | --- |
|   | Wednesdays 6:30 - 8:00 PM |
| Lesson 2.1 | August 18 |
| Lesson 2.2 | August 25 |
| Lesson 2.3 | September 1 |
Ready to sign up?
There are three ways to sign up for a webinar. Call our friendly office at (415) 331-8250, email us, or follow the simple steps below to enroll online.
Online Enrollment Instructions
Click Here to begin the enrollment process. A new tab will open in your browser to display the webinar details.
Scroll down past the webinar details and click the blue Sign Up Now! button. A window will pop up to prompt you to log into your online account or to create an account.
After you're logged in to your account, the "Make a Reservation" screen will appear. Scroll down on the page to find the individual lesson dates.
Click on the box(es) containing the date of the lesson(s) in which you to enroll. The box(es) clicked on will turn light blue to indicate that they are selected.

If you wish to enroll in all three lessons, be sure to click on all three dates.
After selecting your date(s), click the Enroll button.

Next, you will be prompted to choose an item to add to your cart. Depending on whether you chose to sign up for all three lessons (full track) or a single lesson, click on one of the following:

Webinar - 3 Lessons - Full Track, or;
Webinar - Single Lesson.

Your browser will then be directed to the "Shopping Cart" screen. Click on the blue CHECK OUT button (near the bottom of the screen). 
Enter your payment details and click the blue PLACE ORDER button to complete your enrollment.
Be sure to check your email for your enrollment confirmation and payment receipt. Zoom link with meeting ID and login details will be emailed to registrants the Monday before each webinar lesson.