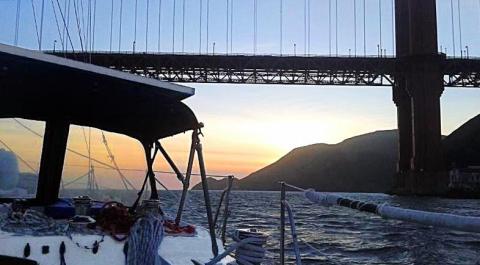 ASA 105, Coastal Navigation
Cost: $495 for members, $595 for non-members
In preparation for the ASA Coastal Navigation exam, we offer a coastal navigation classroom workshop. Areas of study include chart reading, current determination, dead reckoning, fixes, running fixes, danger bearings, set and drift problems and more.
The class is intended to supplement the text rather than replace it, so plan on studying before the class begins.
Included in the price is a Coastal Navigation Kit which includes your text book with problem sets, Tide Book, a practice chart. The course is 6 evenings, 5 nights of study with testing on the sixth night. Please make sure to bring your navigation tools: divider, parallel rulers, etc. Prerequisites: None
ASA 106, Advanced Coastal Cruising
Cost: $1595 for members, $1920 for non-members
Are you ready to discover ocean sailing and explore the coast? Our ASA 106, Advanced Coastal Cruising course will give you the skills and confidence you'll need for safe and successful coastal expeditions.
Depending on weather and sea state, this course takes you beyond the Golden Gate to Drakes Bay and the Farallon Islands, then down to Half Moon Bay and back within 4 days. Aboard Coho II, our Spencer 44 bluewater cruiser, you'll practice night sailing, chart navigation, electronic piloting, and anchoring. Learn float plan development, advanced sail trim, weather analysis, heavy weather techniques, emergency procedures, and more. Boat systems and troubleshooting are also covered, with an emphasis on the problem-solving skills that are essential to self-sufficient coastal cruising. Prerequisites: ASA 104 & ASA 105
California Coastal Combo Course (ASA 105 & 106)
Cost: $2595 for members, $3115 for non-members
The dynamic California Coast provides the perfect setting for training at an advanced level. This 7-day course combines ASA 105, Coastal Navigation and ASA 106, Advanced Coastal Cruising certifications. With this course, you will discover ocean sailing and benefit from the wealth of knowledge that our instructors have gained from their own extensive cruising adventures.
Sailing to Drakes Bay, the Farallon Islands, and Half Moon Bay, you will practice night sailing and electronic piloting, learn float plan development, chart navigation, advanced sail trim, weather analysis, heavy weather techniques, emergency procedures, and more. Boat systems and troubleshooting are also covered, with an emphasis on the problem-solving skills that are essential to safe and self-sufficient coastal cruising. Course itinerary is contingent upon weather and sea state. Prerequisite: ASA 104