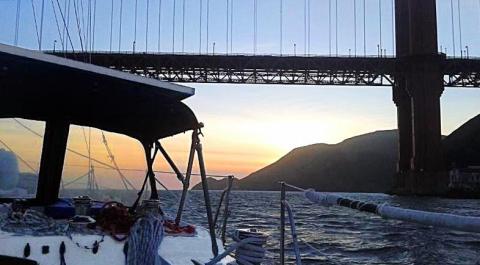 ASA 105, Coastal Navigation
Cost: $445 for members, $525 for non-members
In preparation for the ASA Coastal Navigation exam, we offer a coastal navigation classroom workshop. Areas of study include chart reading, current determination, dead reckoning, fixes, running fixes, danger bearings, set and drift problems and more.
The class is intended to supplement the text rather than replace it, so plan on studying before the class begins.
Included in the price is a Coastal Navigation Kit which includes your text book with problem sets, Tide Book, a practice chart. The course is 6 evenings, 5 nights of study with testing on the sixth night. Please make sure to bring your navigation tools: divider, parallel rulers, etc. Pre-requisites: None
ASA 106, Advanced Coastal Cruising
Cost: $1295 for members, $1495 for non-members
Ready to start doing long distance cruises on the coast? Our Advanced Coastal Cruising Course (ASA 106) will give you the skills and confidence you need for success.
 
Typically this class goes out the Golden Gate to Drakes Bay & the Farallon Islands, then down to Half Moon Bay and back. Taught aboard Coho II, a Spencer 44 bluewater cruiser, the curriculum includes ocean night sailing and navigation, anchoring, boat systems, developing float plans, and an introduction to electronic navigation including radar.
Boat systems and trouble shooting are also covered, with an emphasis on the problem solving skills that are essential to successful coastal cruising. Pre-requisite: ASA 104 & ASA 105
California Coastal Combo Course (ASA 105 & 106)
Cost: $2225 for members, $2545 for non-members
Because of dynamic conditions that present challenges to even experienced sailors, the California Coast provides the perfect setting for training students at the advanced level.
 
The 7-day course will be taught on Coho II, a Spencer 44 bluewater cruiser. Day One of the trip will be spent on boat systems, weather analysis and provisioning, with the first night anchored in Richardson Bay or Horseshoe Cove. The next morning we will head out the Gate and make the trip south without stopping to Monterey, if conditions allow. Half Moon Bay and Santa Cruz offer shelter and additional anchoring/docking practice on our return trip up the coast. Pre-requisite: ASA 104