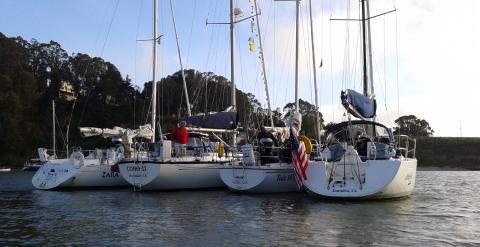 We had 4 boats rafted up with us for the night in Clipper Cove in Treasure Island. Our members were extremely excited to see the world premier of the infamous yacht tub they had been hearing rumors about. BBQs were hot, the beers were cold, and laughs were loud and plentiful. We all had an awesome experience which absolutely exceeded our expectations!
Member Kira Maixner was one of our charterers over the weekend that rafted up with us. She wrote about her first Summer Solstice experience.
 
Summer Sailstice 2015 Yacht Tubbing, Good Company, and Clipper Cove
A day to celebrate summer, sailing, and good company. I had never experienced the holiday before moving to the Bay and as a fairly new sailor, this year was my first, full on event. I joined the two-day flotilla hosted by Modern Sailing School and Club. I wasn't sure what to expect, outside of an itinerary that, as sailing goes, was likely to change at any moment, and I have never spent a night on the San Francisco Bay. Regardless, I booked my boat, filled it with newbies, a few seasoned sailors, and headed out onto the Bay.
After a typically foggy and windy attempt to sail out that iconic Golden Gate, we changed course and headed to our rendezvous point, Clipper Cove. I kept an eye on the depth finder as I navigated the notoriously shallow water holding my breath. After we were successfully rafted up to Coho II in a mess of lines that promised we wouldn't drift away in the night, I sighed "take off your shoes and feel that boat beneath you feet." I couldn't help myself and despite a bit of a breeze I kicked off my shoes, my crew following suit.
We broke out the grill, burgers, and beer and the sailabration began. Several boats joined us and before we knew it, the raft up had grown to a crew of more than 10 people. There had been promises of good times and "yacht tubs" and I wasn't disappointed. As the sun began to set, hosts Travis and Mel threw down a giant, heavy duty, black tarp in the cockpit of their boat, turned on the hot water heater strapped to the stern pulpit and steaming water (salt water - don't be silly, we're in a drought you know!) started to pool in bottom of the cockpit. It's not exactly a sailor's first instinct to pump water into the boat, but let me tell you, it was glorious! As other boats joined us, our yacht tub grew in size and Mel was sure to set the mood with glow sticks galore.
As midnight rolled around, wind whipped and sunburnt, full of grilled mango and beer, and sleepy from sailing into the evening of the longest day of the year, I crawled into the v-berth and let the soft slosh of water on the hull lull me to sleep. In all, Summer Sailstice was amazing! A great crew and Modern Sailing School and Club made it memorable and I can't wait till next year!