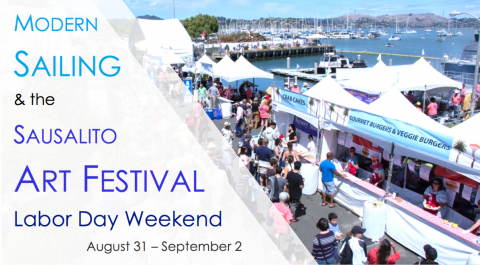 Are you chartering or thinking about chartering on Labor Day weekend? On Labor Day weekend, the iconic Sausalito Art Festival annually commandeers Marinship Park and the parking lots surrounding our marina and office - but don't be deterred! To ensure your day goes smoothly, here's what you need to know how the Sausalito Art Festival affects Modern Sailing members and guests. 
Complimentary Access to the Festival!
Once you and your guests have been granted entrance to the festival grounds, you also have full access to the Art Festival for the day(s) of your charter.
General admission tickets are priced $30. Enjoy the event for free!
Wine, spirits, and concessions.
Children's Adventure Land - interactive art experiences for kids!
Après Sails Socials
The weekend of the event, we will not be hosting our usual Après Sails socials.
One Automobile Per Boat
The Festival reserves for Modern Sailing only one parking space per boat in our fleet. We strongly recommend that all crew share one vehicle or take an Uber or Lyft ride in.
Arrive by 9:00am in order to secure your parking space. Any MSC-reserved parking spaces left unoccupied by midday may be surrended to other Festival-goers.  
Parking & Transportation
Entrance is through the main parking lot at 2330 Marinship Way.
Drivers and passengers must be on the Festival's Security Access List in order to enter the parking lot.
Be aware that Uber/Lyft vehicles cannot enter Festival parking lots, so if you take an Uber/Lyft or shuttle ride in, you will need to walk from the Harbor Drive to the marina.
Dock carts will not be available at the Festival entrance. You will need to carry your gear in, so keep this in mind when packing.
Learn more about transportation and parking options available during the event on the Art Festival Information page.
Crew Lists
You are required to submit the names of your crew in advance of Labor Day Weekend to our Customer Service Team. We will provide a daily Access List to Festival Security in order to grant you and your guests free admission to the festival grounds.
Please arrive no earlier than 8:30am to give our staff time to print out and provide Festival Security the daily list.
Upon arrival, provide Festival Security with your names and they will check the Security Access List that we provided them that morning.
If you have any last-minute changes to your crew, please let us know right away so that we can update the list.
Please call our office if you experience any problems parking or accessing the grounds and we will immediately resolve the problem for you. 
Prime Time & Full Day Reservations Only
Due to the parking limitations, Sunset reservations are not available.   
Last-Minute Reservations
Online charter reservations for Labor Day weekend will be unavailable during the event. To make a last-minute reservation, please call our office and speak with one of our friendly staff. Be ready with the names of your crew so we can ensure that everyone will be able to access the festival.
Members and guests - Due to the volume of traffic we will not be hosting an Après Sail Saturday and Sunday of Labor Day weekend. We appreciate your patience and support and we hope you will enjoy the benefits of your membership and the renowned Sausalito Art Festival this Labor Day weekend!