37°47'38.0"N 122°16'37.6"W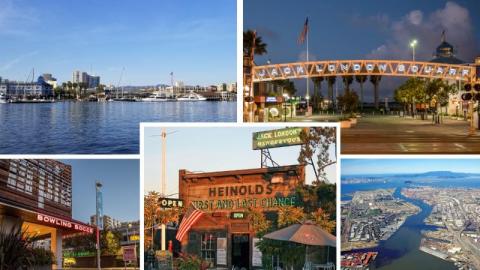 Looking for fun local activities to add variety to your bay sailing adventures? Sail the Oakland Estuary to Jack London Square and explore historic landmarks and celebrated establishments near you! This 1-day itinerary blends exciting outdoor excursions with engaging indoor diversions.
The Oakland Estuary is especially lively for birdwatchers during the fall bird migration. While sailing or motoring up the channel, you and your crew will appreciate the up-close view of the looming dock cranes used to load cargo ships. Urban legend has it that the cranes inspired local filmmaker George Lucas to create the ominous AT-AT Walkers in Star Wars!
Jack London Square is named after the intrepid adventurer and author of The Sea-Wolf, White Fang, and Call of the Wild. The Sea-Wolf was allegedly inspired by tall tales told by patrons of the legendary Heinold's First and Last Chance Saloon. This small bar with its tilted floor, where sailors had their first drink returning from a sea voyage and their last drink before departing back out to sea, is festooned floor-to-ceiling with nautical and vintage curios dating back to early California. 
Stroll the waterfront and Square to visit shops or tour two historic vessels: the Lightship Relief, a floating lighthouse which aided navigation along various U.S. coastlines from 1951 to 1974, and the USS Potomac, President Franklin Delano Roosevelt's historic yacht. Dine at inviting options like Scott's Seafood Grill & Bar, Pasta Pelican, Kincaid's Oakland, or Plank for bocce, beer, and bowling. After sunset, the sparkling lights of San Francisco, the Bay Bridge, and the Golden Gate Bridge will take your breath away as you sail across the bay back to Sausalito.
 
Sailing Snapshot
Approximate Distance: 12 nm
Starting from Modern Sailing
Under Normal Sailing Conditions
Estimated Time: 2 - 3 Hours
Plan on a little over 2 hours to get there.
2.5 hours to get back to base.
Time estimates are based on normal sailing conditions on the bay.
Navigation Skill Level: Beginner to Intermediate
It's a fairly short trip, but sailing in unfamiliar waters if you have never ventured into the Oakland Estuary before. 
The navigation is straight forward if you familiarize yourself with the chart beforehand.
Sailing Skill Level: Beginner
This is generally a beam reach/run trip to Jack London Square.
Beating to weather on the way back, but nothing out of the ordinary if you are used to sailing on the main bay. 
The Oakland Estuary is narrow, but has deep water to within a boat length of the sides. 
At times, you can be sharing it with large container ships, tug boats, and ferries, so keep a good lookout!
Maneuvering/Docking Skill Level: Intermediate
The guest dock at Jack London Square is a side tie, and often crowded. 
If you are comfortable with side tie docking, and standing turns in close quarters, then it is nothing to worry about.                 
Oakland Estuary Navigation
Departing from Modern Sailing, head straight out the Richardson Bay Channel.
From Day Marker #2, head 114 degrees magnetic or just north of Alcatraz.
From Alcatraz, head 106 degrees magnetic to a point just south of the West Span Bay Bridge tower closest to Yerba Buena Island. 
From the West Span Bay Bridge waypoint, look for the line of red buoys leading into the Oakland Harbor, starting with #2, which should be .6 nm directly in front of you. 
Follow the channel into the Oakland Estuary.  
Jack London Square is 2.5 nm from the mouth of the Estuary, identifiable as the first large marina complex for pleasure craft on the left side/north bank of the Estuary.
                                                                                                                                         Approaching the Scott's Seafood Guest dock from the North
Docking Options
There is a guest dock in front of Scott's Seafood. Enter east of Scott's between Scott's and Kincaid's.  

This dock will give you access to all the restaurants and attractions in Jack London Square.
Dock availability is first come, first served.
There is no charge for docking.
Overnight docking is not allowed.
 

Another option is Pasta Pelican, which is directly across the estuary on the Alameda side, which has its own guest dock. 

The dock at Pasta Pelican is only for Pasta Pelican customers.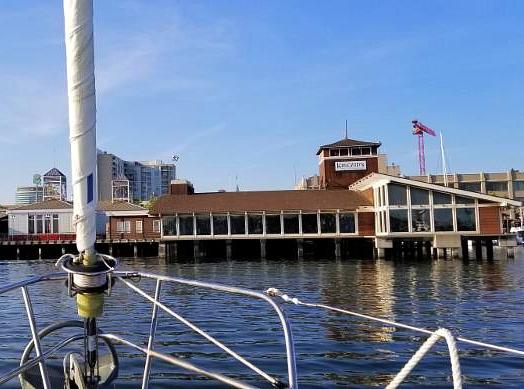 Kincaid's off the Starboard Bow                                                                       261 days of sun a year and Lungomare                                                                                   
Dining Options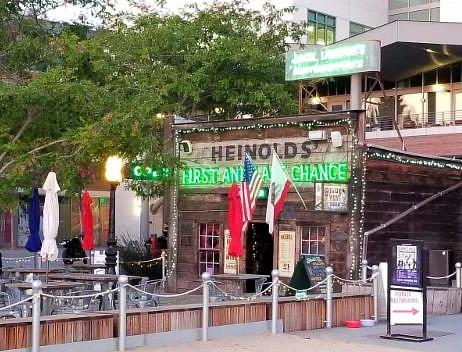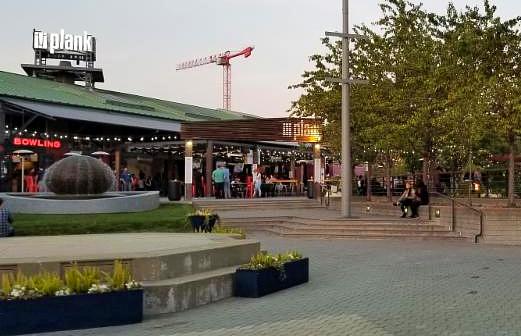 Plank - Bocce, Beer and Bowling                                                                          Heinold's First and Last Chance Bar