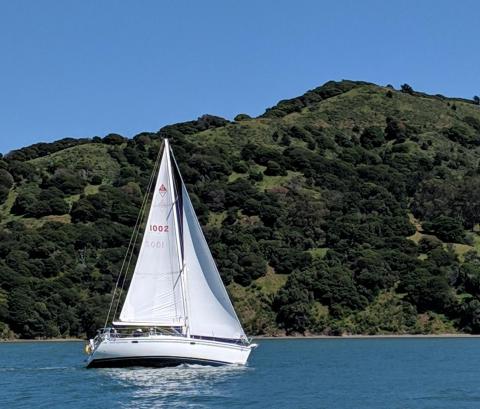 August 21 through September 18, when you become a Modern Sailing member you'll receive a complimentary 3-lesson live webinar to help you plan unique itineraries and multi-day trips on San Francisco Bay!
Regular One-time Membership Initiation Fee: $375
Regular-Priced 3-Lesson Webinar Series: $75
Price of this Special Package: $374.99. Save $75.01!
​Click to buy this Membership Initiation with Complimentary 3-Lesson Webinar Package online.
---
Why become a Modern Sailing club member? Learn More 
Monthly membership dues are $45 for an individual or $60 for 2 partners. Dues will be charged to your credit card on file on the first of every month. There are no annual fees. If you'd like to convert your individual membership to a shared partner membership, please contact our office.
Note that during the pandemic, some club activities and offerings are unavailable or modified to respect public health guidelines and help limit the spread of COVID-19. For everyone's safety, Club Sail and class capacities are currently reduced and masks are always required. Learn More
---
WEBINAR TRACK 1 – Discover San Francisco Bay by Sail: Local Destinations and Beyond
Options for travel and vacations abroad are limited these days, so we invite you to take a closer look at San Francisco Bay - a treasure trove of unique destinations to enjoy discovering by sailboat!
In these "bite-sized" live online lessons, you'll learn how to make the most of your bareboat charters with expert guidance from the people who have sailed and navigated our favorite waters for decades. Our USCG Licensed Captains and ASA Certified Instructors share their seasoned advice on the best itineraries, anchorages, and overnight destinations in the Bay and beyond. The Track is split into three 1.5-hour lessons that will prepare you for one day, overnight, and multi-day charters. Learn More
You will be able to enroll in the webinar lessons after completing your purchase of this Special Package. You will also become a member of the club, with access to purchase Courses, Clinics, and Coastal Expeditions at the discounted member prices and become eligible to sign up for Club Sails.
Already a member? Existing members who purchase all 3 lessons of this webinar receive a $50 charter credit!
---
Interested in bareboat chartering?
---
Welcome Aboard!
You will receive a Welcome Aboard email within 3 weeks of membership initiation. If you have any questions about your membership and next steps, please do not hesitate to call our friendly office at (415) 331-8250 or email us.
​Click to buy this Membership Initiation with Complimentary 3-Lesson Webinar Package online.