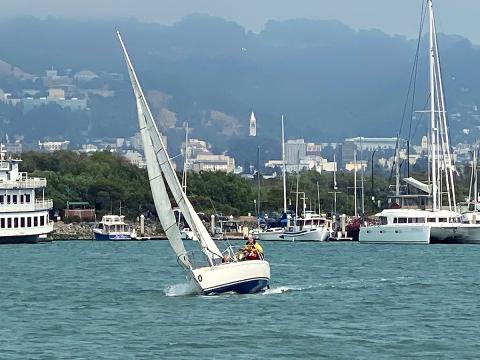 The Introduction to Sport Boats Clinic at Inspire Sailing was developed for sailors interested in experiencing the thrill of sailing a sporty, nimble, tiller-steered boat like the J/24. In August, Inspire Sailing ran their first-ever Intro to Sport Boats Clinic and two Modern Sailing club members joined CEO Leigh Hunt and US Sailing Instructor Trevor Steel for a complimentary test drive. MSC club members Anne Trott and Sterling Watson shared their experience of the clinic and learning to sail the J/24 with us.
---
"My experience in the Intro to Sport Boats was positive and I was eager to keep learning on the J boats after completing the 2-day course. Having completed ASA 101-104 on the larger monohulls of 30 feet+, I was surprised on day 1 that the J/24, only 6 feet smaller, would feel so much closer to the water and highly responsive, more akin to a dinghy than a monohull. At first I felt a little nervous. I quickly learned on day 1 that the J/24s are actually really stable and good for making mistakes and learning. Our instructor had a calm demeanor and positive attitude which helped me persevere through my initial apprehension until I was more comfortable with how the boat maneuvered. By the end of day 2, I was having a lot of fun with this more adrenaline-fueled sailing. I think it really complimented what I had learned on the bigger boats. I'm hoping there will be opportunities to race the J boats and continue instruction." - Anne Trott
---
"Leigh, Anne and I arrived at Berkeley Marina Thursday morning and met Trevor, our experienced instructor with a fun and feisty attitude. We spent the morning reviewing a few basics and then talking about the details of sailing the J/24 and the Berkeley Marina. Overall, the J/24's are a lot smaller, more manual, and more maneuverable than the typical Modern Sailing boats.  Some key differences are the non-furling jib, tiller for steering, and the outboard motor for going out and coming into the dock.  The Berkeley Marina is little trickier than Sausalito with some breakwaters to avoid. Out on the water, we learned tons and had an exciting time.  Things are different in a smaller boat and we had quite a bit to learn to adjust to them. Being smaller, it's easier to heel the boat over a lot and get the rail in the water. That was scary at first but Trevor sat there calmly with his ankles in water and guided us in how to handle the boat. Overall, a different and exciting experience which can broaden your sailing skills and open up new opportunities.  However, not for everyone." - Sterling Watson

Interested in sailing the exhilarating J/24? Learn more about Dual Site Membership and the Introduction to Sport Boats Clinic.
Photos by Dan Givens