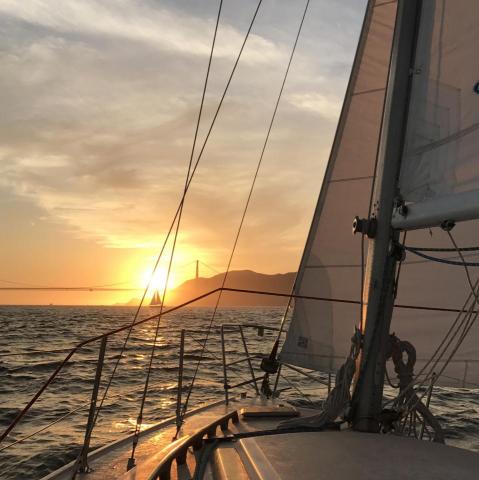 Escape your daily grind and refresh yourself with a beautiful sunset sail on San Francisco Bay. You'll return to work the next day or start your weekend feeling revived and inspired. Club members can save up to 35% on Midweek Sunset Charters by stocking up now!
To purchase online, log into the Online Store, then come back to this page and add to your cart by clicking on the item(s)  below.
Midweek Sunset Specials apply to Midweek Sunset Charters (4:00 - 8:00 PM, Mondays through Fridays). Purchase and redeem for the fleet level(s) for which you are qualified. If you expect your fleet level to be upgraded in the near future, you may pre-purchase in advance and redeem after qualification.
Be sure to call in the morning on the day of your reservation - if your boat isn't reserved for a Prime Time Charter ahead of you, you can check in for your sunset charter as early as 2:00 PM - for no additional cost!
These specials are available for purchase February 27 - April 15 only. Purchase as many as you like - Midweek Sunset Specials never expire and are always fully refundable.