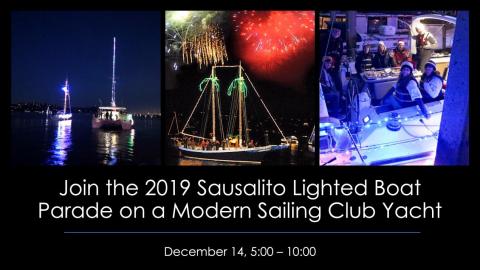 Spark the spirit of the season with holiday lights, music and fireworks on the water!
December 14 is the 32nd annual Sausalito Lighted Boat Parade. This special event is a holiday tradition in Sausalito and across the Bay Area. Every year, we enter two of our club boats in the parade and our hard-working fleet staff decorate them for our members and guests to participate in this magical experience. With the sounds of holiday music and cheering spectators, you and your guests will be dazzled by the spectacle of decorated boats and fireworks. An enchanting and memorable event to kick off the season, even the grinchiest of sailors will be unable to resist the holiday cheer.
Complimentary snacks, beverages and holiday cookies are provided aboard. Club members can enroll up to two adult non-member guests at the member rate ($75 each). Enroll Now
To preview the magic, watch this fun little video of the 2018 parade. But take our word for it - it doesn't compare to being there!
Questions about enrolling guests? Please call our friendly office at (415) 331-8250 or email us.
This event is open to MSC club members and their guests only. Interested in becoming a member? Learn more about the many benefits of club membership. Our Holiday Specials will help you get started and save.