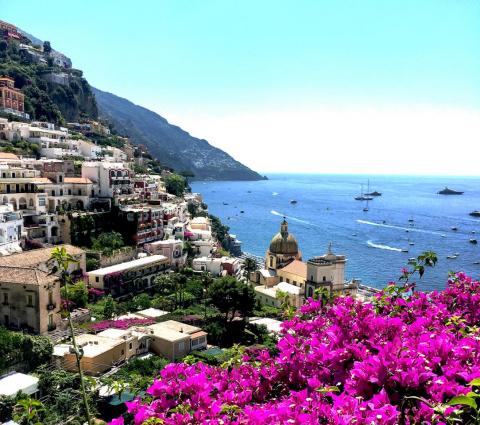 LEG 1: September 5 to September 15, 2020 (10 nights)
LEG 2: September 16 to September 26, 2020 (10 nights)
By popular demand, Modern Sailing Global Destinations heads to enchanting, picturesque Italy for two 10-night legs cruising its spectacular central coast and the Gulf of Naples. Join us as we explore the colorful playground enjoyed for centuries by emperors, royalty and celebrities.  
From Procida, we'll set sail for Capri, Cetara and the Amalfi Coast. On layover day, explore the local culture and flavors of Sorrento with day tours of the Pompeii Museum, wineries and markets. Sailing over the blue waters of the Tyrrhenian Sea, we'll visit Ischia Island to experience therapeutic thermal baths. A western heading will bring us to Ventotene Island, one of the Pontine Islands, long favored by Italians and frequented through the ages by Etruscans, Greeks and Romans.
Septembers on the Italian coast are ideal to avoid the crowds and still enjoy the tail end of the summer sun. A destination unlike any other, this region offers a rich mix of culture and history with a wide variety of quintessential tourist activities. Escape the ordinary with the Gulf of Naples and the Amalfi Coast's perfect blend of sun, sea, and sand. 
THE YACHTS*

Sunsail 51



The Jeanneau-designed Sunsail 51 embodies harmonious luxury with a dignified silhouette and spacious interior. The naturally beautiful and versatile yacht offers exceptional sailing and liveability. In the 4 cabins, space, comfort and functionality are key features. Elegant, spacious and responsive, this 4-cabin model was inspired by the successes of slightly smaller models. Jeanneau designed a modern and performance-oriented hull with a hard chine along with elegant and timelessly beautiful deck styling. Inside, the impressive volume and light provides an open and airy feeling. Attention to detail can be found throughout - especially in the safety, function and look of each detail.

Sunsail 47



Created by Philippe Briand, the Sunsail 47 is an elegant offshore cruiser with an exceptional interior and deck plan, designed with ease of handling in mind. Easy to maneuver with a surprisingly lively turn of speed, the Sunsail 47 combines clean lines and an elongated hull for great performance. Designed with the sort of spacious interior typically found on a 50-plus-footer, the Sunsail 47 is built for sailing in comfort and speed. At sail all lines are lead to the safety of the cockpit, simplifying short-handed sailing. The perfect long- and short-leg cruiser with electric winches and the latest furling systems, the Sunsail 47 is made to tackle anything from easterly Caribbean trade winds to northwesterlies across the Adriatic.

Jeanneau Sun Odyssey 490



Designed by Philippe Briand and Jean-Marc Piaton, the Sun Odyssey 490 successfully combines contemporary style and graceful handling. The design's hull volume delivers great sailing performance, more interior space for guests' comfort, and more lounge areas topside. The massive cockpit lounge is framed by the iconic walk-around decks, which make movement around a boat easier than ever before. However, the game changer is the convertible coamings. The unfolding seat backs can be reclined to transform the entire aft eight feet of the boat into a sunbathing deck! The open concept interior is bathed in light, as the main salon features many rows of windows and hatches. The central U-shaped galley is optimally placed for meal preparation while under way and ease of service to the salon. Life on board has never been so simple and comfortable!

*These yacht models have been reserved through Sunsail by Modern Sailing but may be subject to change. The three models described are closely similar to any yacht that may substituted in terms of size, layout, and sailing performance.
Trip Information Session

Enjoy a complimentary beverage and hors d'oeuvres as you learn about the exciting itinerary. We will present information on the boats, destination, and culture of the central Italian Coast. RSVP is required to attend. 

DATE
Saturday, February 22, 2020  |  3:00pm - 5:00pm
LOCATION
Sausalito Seahorse Restaurant  |  305 Harbor Dr, Sausalito, CA 94965

 
 

Cabin Prices*

Enrollment for the Sail Italy and the Amalfi Coast flotilla opens in February 2020. Stay tuned to our weekly newsletter emails to receive updates. Cabin pricing is per Leg (10-night trip).
 
VIP Early Pricing** - Single Occupancy
$6,200
VIP Early Pricing** - Double Occupancy
$6,700
Single Occupancy Cabin
$6,900
Double Occupancy Cabin
$7,400
 

*A deposit of $3,000 is due at time of enrollment. Remaining balance is due June 1, 2020.
**VIP Early Pricing ends March 31, 2020
Proposed Itinerary and Travel Details
Learn more about the proposed itinerary and travel considerations in the Sail Italy and the Amalfi Coast Trip Information Packet.
Once crew are signed up, a meeting will be scheduled to give you the opportunity to meet your fellow crew and captains to discuss travel plans, provisioning, and more.
Ready to sign up? Call our friendly office at (415) 331-8250 or Email Us.